All Generation 4 Pokemon From Sinnoh Region Coming to Pokemon GO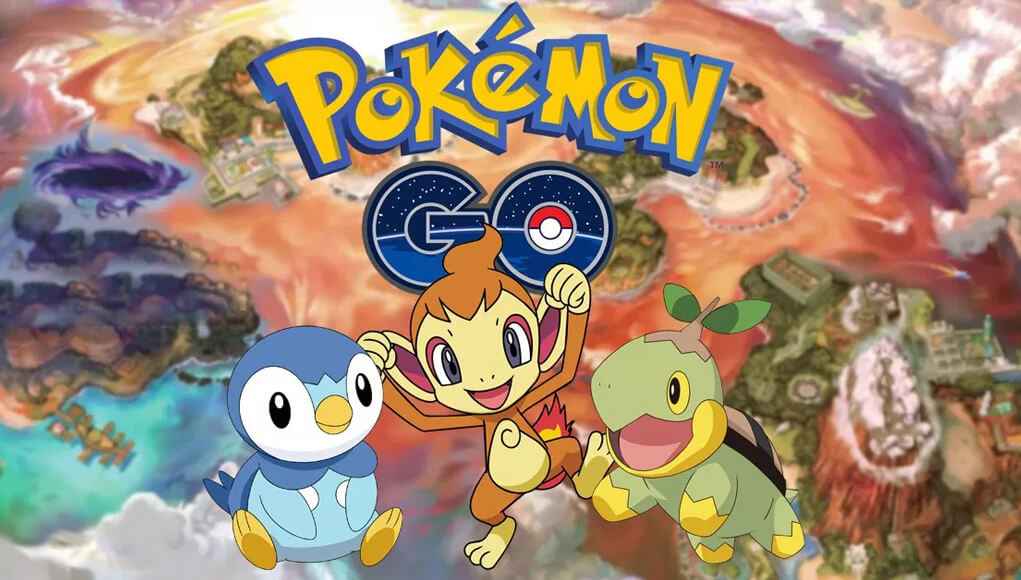 Niantic has just announced the arrival of Generation 4 in Pokemon GO by releasing a sneak peek of the Pokemon from the Sinnoh region. Even though there's still not enough details for its release date, we're expecting to see a lot of new Pokemon in the game soon.
Combining Gen 1 to Gen 3 Pokemon, there are 386 Pokemon in Pokemon GO. And with the addition of the Generation which has a total of 107 new Pokemon, expect to see a lot of expansion in your Pokedex.
While we're still waiting for the official release of Generation 4 in Pokemon, here we list down all the new Pokemon coming to the game.
All Generation 4 Pokemon In Pokemon GO
Turtwig (Grass)
Grotle (Grass)
Torterra (Grass/Ground)
Chimchar (Fire)
Monferno (Fire)
Infernape (Fire/Fighting)
Piplup (Water)
Prinplup (Water)
Empoleon (Water/Steel)
Starly (Normal/Flying)
Staravia (Normal/Flying)
Staraptor (Normal/Flying)
Bidoof (Normal)
Bibarel (Normal/Water)
Kricketot (Bug)
Kricketune (Bug)
Shinx (Electric)
Luxio (Electric)
Luxray (Electric)
Budew (Grass/Poison)
Roserade (Grass/Poison)
Cranidos (Rock)
Rampardos (Rock)
Shieldon (Rock/Steel)
Bastiodon (Rock/Steel)
Burmy (Bug)
Wormadam (Bug/Grass) (Bug/Ground) (Bug/Steel)
Mothim (Bug/Flying)
Combee (Bug/Flying)
Vespiquen (Bug/Flying)
Pachirisu (Electric)
Buizel (Water)
Floatzel (Water)
Cherubi (Grass)
Cherrim (Grass)
Shellos (Water)
Gastrodon (Water/Ground)
Ambipom (Normal)
Buneary (Normal)
Lopunny (Normal)
Mismagius (Ghost)
Honchkrow (Dark/Flying)
Glameow (Normal)
Purugly (Normal)
Chingling (Psychic)
Stunky (Poison/Dark)
Skuntank (Poison/Dark)
Bronzor (Steel/Psychic)
Bronzong (Steel/Psychic)
Bonsly (Rock)
Mime Jr. (Psychic)
Happiny (Normal)
Chatot (Normal/Flying)
Spiritomb (Ghost/Dark)
Gible (Dragon/Ground)
Gabite (Dragon/Ground)
Garchomp (Dragon/Ground)
Munchlax (Normal)
Riolu (Fighting)
Lucario (Fighting/Steel)
Hippopotas (Ground)
Hippowdon (Ground)
Skorupi (Poison/Bug)
Drapion (Poison/Dark)
Croagunk (Poison/Fighting)
Toxicroak (Poison/Fighting)
Carnivine (Grass)
Finneon (Water)
Lumineon (Water)
Mantyke (Water/Flying)
Snover (Grass/Ice)
Abomasnow (Grass/Ice)
Weavile (Dark/Ice)
Uxie (Psychic)
Mesprit (Psychic)
Azelf (Psychic)
Dialga (Steel/Dragon)
Palkia (Water/Dragon)
Manaphy (Water)
Rotom (Electric/Ghost)
Gliscor (Ground/Flying)
Probopass (Rock/Steel)
Gallade (Psychic/Fighting)
Lickilicky (Normal)
Leafeon (Grass)
Glaceon (Ice)
Togekiss (Normal/Flying)
Magnezone (Electric/Steel)
Tangrowth (Grass)
Yanmega (Bug/Flying)
Rhyperior (Ground/Rock)
Dusknoir (Ghost)
Porygon-Z (Normal)
Electivire (Electric)
Magmortar (Fire)
Mamoswine (Ice/Ground)
Froslass (Ice/Ghost)
Giratina (Ghost/Dragon)
Heatran (Fire/Steel)
Regigas (Normal)
Cresselia (Psychic)
Phione (Water)
Darkrai (Dark)
Arceus (Normal)
As seen on the trailer, you can spot Giratina at the end of the video. Giratina is a legendary Pokemon in both anime and other Pokemon games, and so, in Pokemon GO, it's likely to become another Legendary Raid Boss once released.
In addition, there will be numbers of Pokemon from Generation 1 to 3 that will be getting a new evolution in Generation 4. This includes the all-time favorite Eevee who will be getting Leafeon and Glaceon.