One Piece Chapter 923 initial spoilers and the raw scan is here. Unlike what we previously predicted, this chapter exceeds beyond our expectation.
Without further ado, here are the first English translation and raw scans for One Piece Chapter 923.
Before we start, please be reminded that we do not initially share the contents, especially the raw scan images of this chapter. It was found on the internet and we only posted it on our website for discussions.
Read: Luffy Will Be Joining Kid at Kaido's Prison?
One Piece Chapter 923 Spoiler and Translations
Summarize:
Chapter 923 title is Yonko Kaido VS Luffy
Kaido collapse in the ground
Kaido sobers up and hit Luffy with his club
Luffy is unconscious after getting a strike from Kaido
Chapter 923 Initial Translations:
Kaido falls straight to the ground after being punched by Luffy. To determine the state of his friends, Luffy heads towards Oden Castle but discovers a bettered Speed. She tells him that she was found by Kaido while heading towards Tama's home and was defeated in battle by him, and was unable to protect Tama. Luffy regrets not completely seeing Tama home himself.
Law proposes, " I don't know what will transpire while Kaido is drunk. In the meantime, let's escape!". However, Luffy refuses. "If I beat him now, it will be the end of all this! We don't know whether Kinemon and the others, as well as mine and your crewmembers, are okay!"
"Kaido! Over here!"
"Hicc, you are…?"
"Luffy, the man who will become Pirate King!"
Kaido releases a Boro Breath but Luffy avoids it by jumping up into the air. Kaido returns to his human form and collapses to the ground while lying spread-eagled. However, Luffy doesn't relax his efforts and transforms into Boundman, releasing a Kong Organ at Kaido. Luffy fervently continues his barrage on Kaido. Around the time Luffy becomes tired and panting after his barrage of attacks, Kaido sobers up and stands up.
"Thunder Divination"
Kaido sends Luffy flying with his club. Luffy lies on the ground unconscious with blood running from his head.
"Just what kind of King will you become? Brat…"
One Piece Chapter 923 Raw Scan
Here are the initial raw scans that we have for One Piece Chapter 923. We are continually updating the raw scan images once we found an update.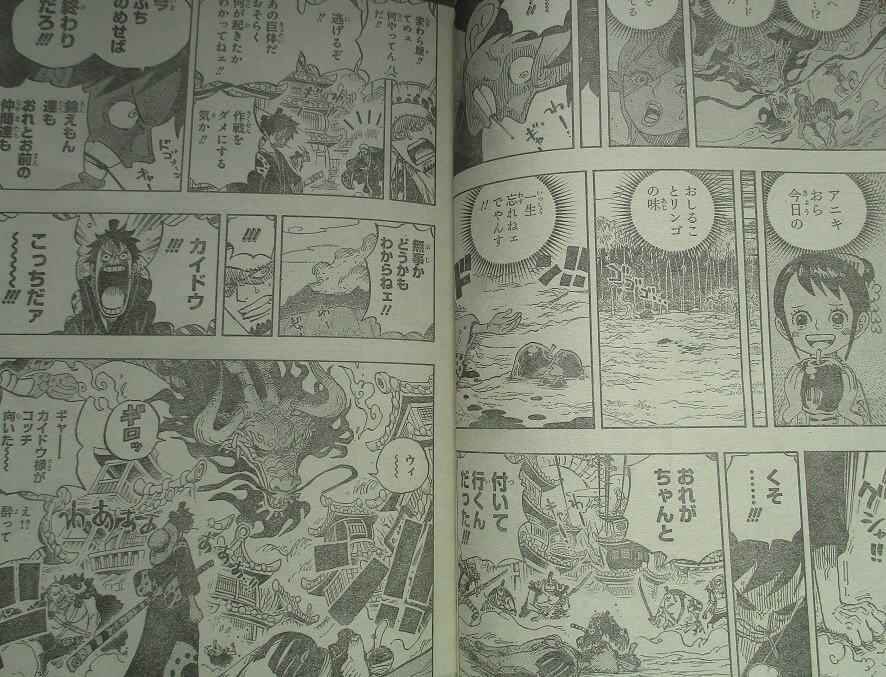 One Piece Chapter 923 Release Date
As always, this chapter is expected to release the official English translations tomorrow or the next day. There are lots of sources out there to read Chapter 923, but we highly recommend to patronize the official One Piece manga distributor.