One Piece Chapter 927 Teases Orochi's 8-Headed Dragon Form
If you're wondering if Kaido is the only creature that can transform into a dragon in One Piece, it turns out that another man from the Wano Country can also do the same transformation. One Piece Chapter 927 is out, and one of the most exciting parts of this chapter is the sneak peek of Kurozumi Orochi's dragon form.
Now, before we start, please be reminded that this post contains spoiler. Make sure to read this article at your own risk.
One Piece 8-Headed Dragon Orochi
In Chapter 927, we learned that apart from Kaido, the current shogun of the Wano Country can also transform into a dragon. Orochi appeared behind shoji doors showing a silhouette of a multi-headed dragon.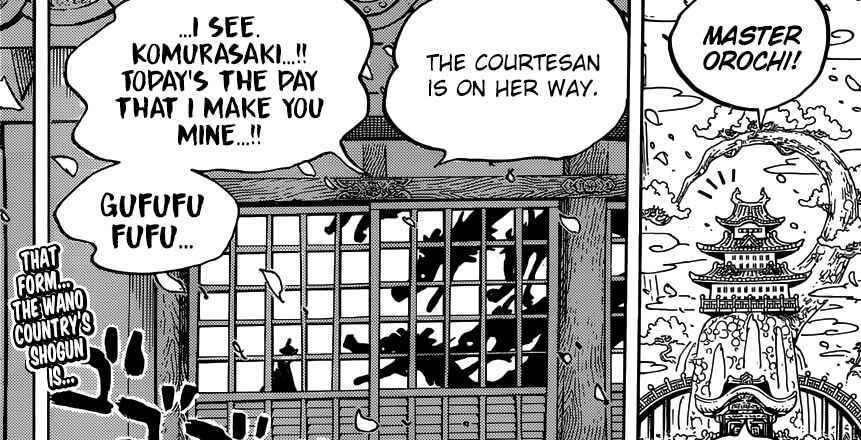 While the silhouette only shows five dragon head, we strongly believe that it was an eight-headed dragon. In the Japanese dragon mythology, there's an eight-headed and eight-tailed dragon called Yamata no Orochi. Obviously, it is not a coincidence for Oda to give Orochi that name and character.
Knowing that Orochi can also transform into a mighty dragon, we can now tell that he's a powerful foe that the resistance is going to face. But who will fight against Orochi in the future? Let's see how things unfold in the next chapter of One Piece.
About One Piece
One Piece follows the story of Monkey D. Luffy, the user of Gum-Gum Devil Fruit, who wants to be the new Pirate King. Luffy was inspired by Red Haired Shanks, one of the most powerful pirates. Along with his pirate group named the Straw Hat Pirates, Luffy explores the vast world of One Piece in search of the treasure known as "One Piece" and becomes the new King of the Pirates.
One Piece is a manga series written by Eiichiro Oda. Since the manga has been serialized in July 1997, it already reached a total of 99 volumes. The manga series is part of Shueisha's Weekly Shonen Jump Magazine. Apart from the original manga series, One Piece has started airing the anime adaptation in 1999. One Piece has also received several anime films with the latest movie titled One Piece: Stampede that have been released in 2019.