One Piece Chapter 944 Spoilers and Raw Scans: Zoro and Sanji Attacks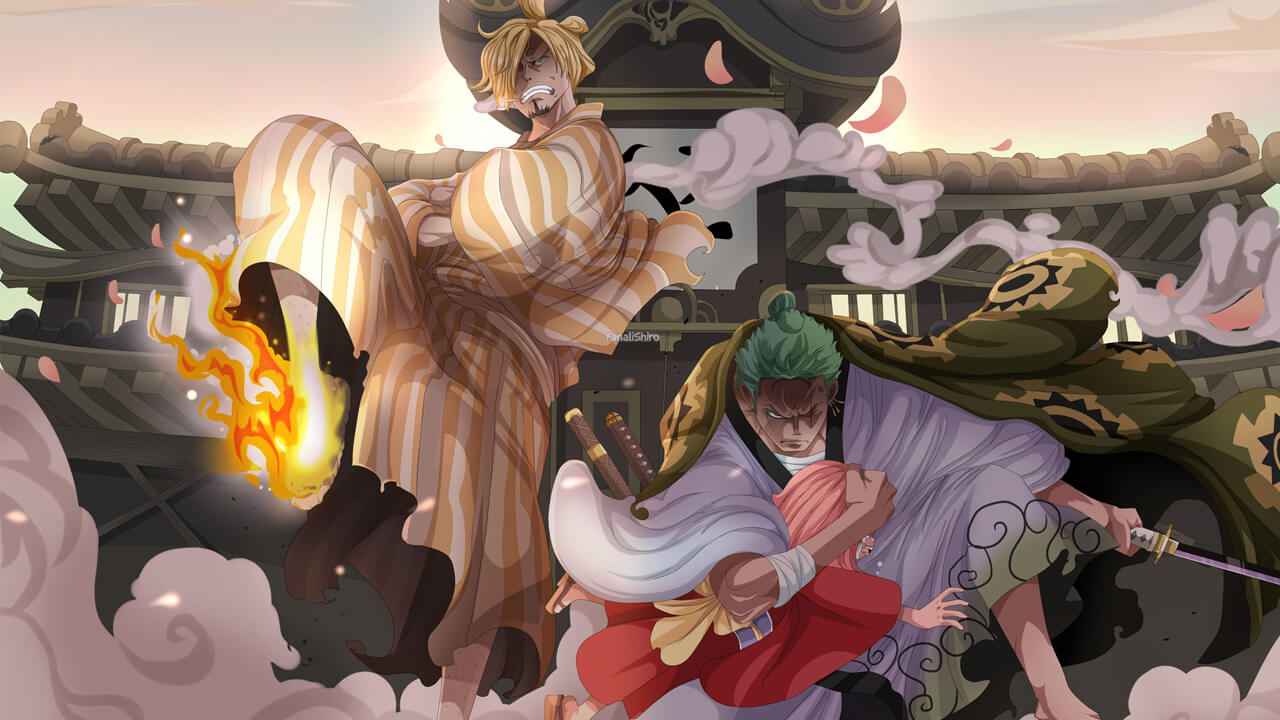 Following the hype of the previous chapter, One Piece manga is back again bringing more breathtaking events. If you're one of the fans looking forward to the upcoming chapter, here is the One Piece Chapter 944 spoilers and raw scans.
Before we start, please be reminded that this article contains spoilers for the upcoming chapter. The author or the website does not take part in creating or leaking these spoilers as they are found from different websites and was posted here for the chapter discussion.
One Piece Chapter 944 Spoilers
The appearance of Sanji and Zoro in the previous chapter surely marks the beginning of the revolution. In Chapter 944, we will be seeing Kyoshiro saving Orochi after getting an attack from Zoro.
X Drake later transforms into his Zoan form which is a dinosaur and attacks Sanji. Orochi's subordinates attack Zoro but Franky showed up covering Zoro from the bullets. The other Straw Hat crew who are in the capital also intervened with the commotion.
Queen, on the other hand, managed to capture Kid and Kamazou. While they are on their way, Kid found himself familiar with Kamazou's laughter. It turns out that Kamazou is Killer, one of the Kid Pirates crew member. Inside the prison, Luffy then attacks Queen after watching what happened at the capital but Queen managed to defend himself easily. The end of the chapter shows Big Mom arrival at the prison showing a terrifying face.
One Piece Chapter 944 Release Date
Since we already got the leaked spoilers, expect to see the digital scan of Chapter 944 this weekend. However, the official One Piece Chapter 944 will be released on June 3rd along with the weekly Shonen Jump magazine issue.
Via Orojackson.com
Featured Image @fanalishiro
About One Piece
One Piece follows the story of Monkey D. Luffy, the user of Gum-Gum Devil Fruit, who wants to be the new Pirate King. Luffy was inspired by Red Haired Shanks, one of the most powerful pirates. Along with his pirate group named the Straw Hat Pirates, Luffy explores the vast world of One Piece in search of the treasure known as "One Piece" and becomes the new King of the Pirates.
One Piece is a manga series written by Eiichiro Oda. Since the manga has been serialized in July 1997, it already reached a total of 99 volumes. The manga series is part of Shueisha's Weekly Shonen Jump Magazine. Apart from the original manga series, One Piece has started airing the anime adaptation in 1999. One Piece has also received several anime films with the latest movie titled One Piece: Stampede that have been released in 2019.