Jujutsu Kaisen Author Confirms Indefinite Break Due to Some Health Concerns
The Jujutsu Kaisen manga author, Gege Akutami, has announced that he will be temporarily out of the office due to some health concerns.
According to Shueisha's Weekly Shonen Jump, the mangaka's indefinite hiatus was decided after some serious behind-the-door talks with several editorials. This decision follows after the release of the Tokyo Revengers Chapter 150, which shows two incomplete pages. In addition, the staff also insisted that Akutami should take a break to improve his health condition.
Since the release of the anime adaptation of Jujutsu Kaisen, the popularity of the series has grown dramatically. This led to massive sales of the manga series and also put the author in the spotlight. With the pressure that the author has received, it's likely that he is overworking to meet the expectations of the fans.
After the release of the official statement, both positive and negative feedback started surfacing online. Some of the feedback suggests that the author's health problems were caused by overwork. While there are fans who take the hiatus negatively, most of the Jujutsu Kaisen fans take it as positive news. Not because fans won't be reading a new manga chapter in the coming weeks, but to show support for the manga author's health.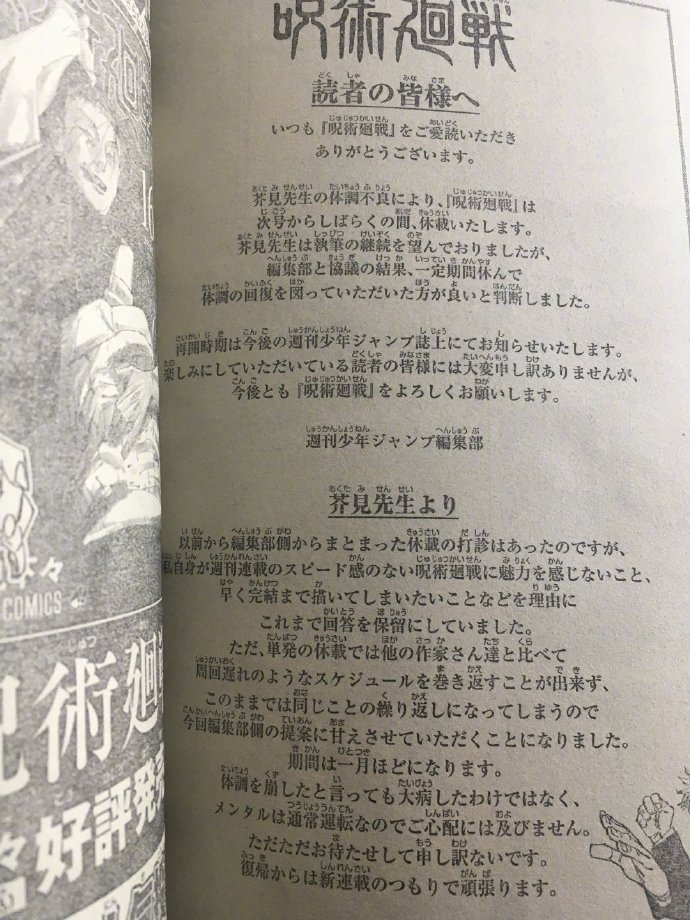 There is no set date for the return of the Jujutsu Kaisen manga series in Weekly Shonen Jump, but the author has assured fans that he will return with another epic manga chapter once he has recovered. In addition, Gege Akutami also confirmed that his health problem is not a serious illness, and he only needs some time to get back on his feet.
In relation to Gege Akutami's break, Shueisha revealed that the upcoming Jujutsu Kaisen Chapter 152 will only have a total of 9 pages. Usually, the manga series gets more than 20 pages per chapter.