One Piece Film: Red Announced, "Red-Haired" Shanks Coming to Big Screen in 2022
While many fans are waiting for the release of the 1000th episode of One Piece anime this Sunday, One Piece creator, Eiichiro Oda, has announced another surprising news. This time, the manga creator confirmed that One Piece will be getting a new film, which is set to release next year.
According to the details, the upcoming anime film is titled One Piece Film: Red. The full details of One Piece Film: Red is yet to be revealed but judging the logo of the upcoming One Piece movie, it seems that it will be covering the story and adventure of Shanks.
Apart from the film's title, Eiichiro Oda also released a statement to celebrate this news and expressed his gratitude to the production staff.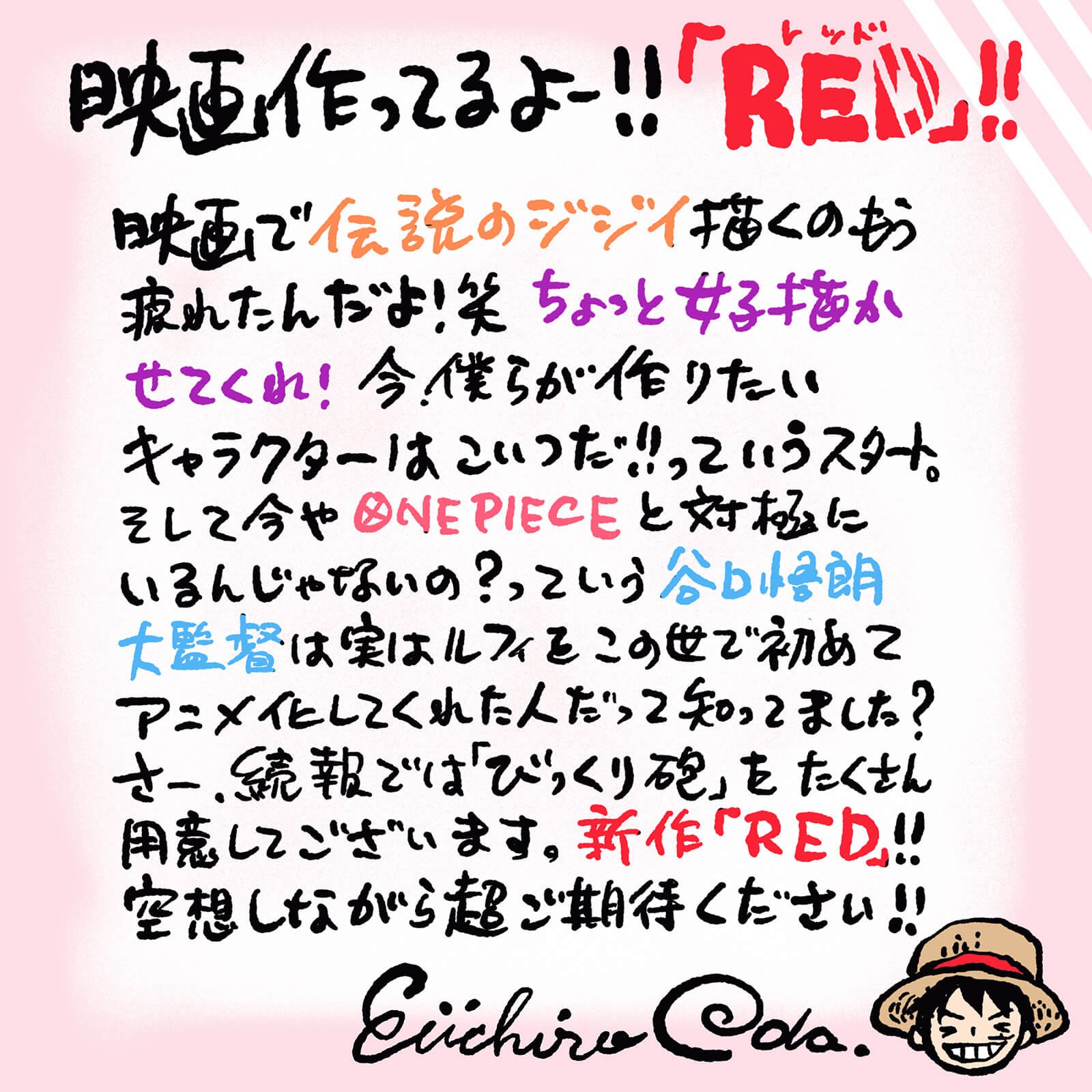 Here's the rough English translation of the image above:
We are making a movie!! RED!! I'm tired of drawing legendary geezers in movies! So give me a break lol! That's how it started, and we arrived at the character for this movie. Did you know that Mr. Goro Taniguchi despite being distant from One Piece is the first person to ever animate Luffy?

We've got many surprises in store for you! So please, look forward to the new "RED" and let your imagination run free!

Eiichiro Oda
One Piece Film: Red is scheduled to officially premiere on August 6, 2021. More details about the upcoming anime film will be shared with the One Piece fans but right now, what we only got is that Shanks will be appearing in the movie.
Speaking of the One Piece franchise, Netflix has also revealed the main cast of the One Piece live-action series. We have learned that Inaki Godoy will be playing the role of Luffy, along with Emily Rudd, Mackenyu, Jacob Romero, and Taz Skylar.