The previous One Punch Man manga chapter has just been released and everyone is already excited to see the One Punch Man Chapter 150. Well, the cliffhanger of Chapter 149 surely is the reason why One Punch Man fans are excited about the next manga installment. So in this article, we will give you all the details that we know about the upcoming One Punch Man Chapter 150. But before that, let's have a short recap of the previous chapter.
Previously, the manga features the continuation of the fight against the monsters sent by the Monster Association. Chapter 149 sees the arrival of Homeless Emperor and how he attacked Fuhrer Ugly. Superalloy Darkshine was devastated after seeing his shininess slowly disappearing. At the same time, he was shocked upon witnessing the shininess of Golden Sperm. Superalloy Darkshine was immediately attacked by Golden Sperm. The manga then shifts back to Fuhrer Ugly, who is being tailed by Black Sperm. Later, Metal Bat also arrived and killed all the Black Sperm following Fuhrer Ugly. As the manga reached its final chapter, manga fans saw how Genos is trying his best to escape while dragging Tatsumaki. Black Sperm are surrounding the two heroes when King arrives.
Chapter 150 Predictions
The cliffhanger of the previous chapter sees the arrival of King on the battlefield. As we all know, King doesn't have any skills when it comes to hand-to-hand combat. However, his intimidation and superior luck are top-notch.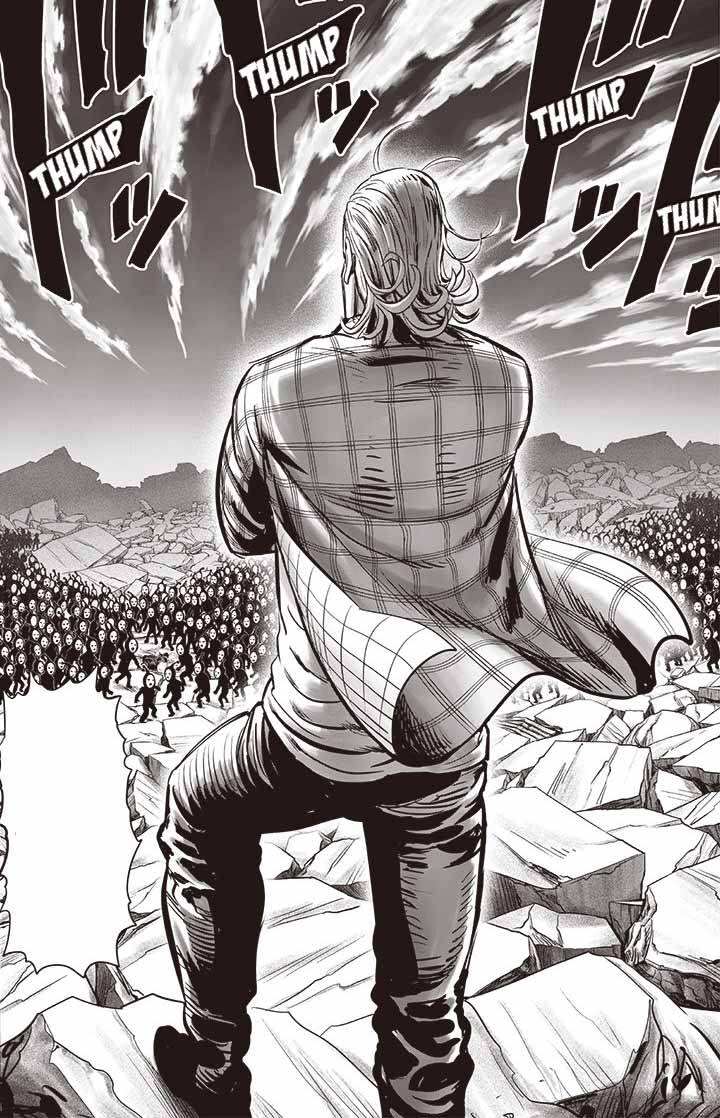 I don't think King will be fighting Black Sperm head-on, instead, we might be seeing another strong hero that will aid him. Saitama hasn't been featured in a while now. Knowing their connection, there's a slight chance that we might be seeing Saitama back in action. Let's see how things unfold in the next manga installment of One Punch Man.
Chapter 150 Release Date
One Punch Man manga is usually getting two chapters every month. Unlike the other manga series out there that have an accurate and consistent release schedule, One Punch Man is a different story.
Now that the new chapter has already been released this month, it's likely that the upcoming One Punch Man manga chapter will be released in the third week of July 2021. As of the moment, the staff of the manga series hasn't announced the official release date of Chapter 150. We will be updating this post once we got any news on this matter.
Chapter 150 Spoilers and Raw Scans
The spoilers and raw scans for One Punch Man manga are usually being leaked around two to three days before the English scanlations go online. Currently, there are still no leaked One Punch Man Chapter 150 spoilers.
While waiting for the release of the chapter, please share with us your opinion and prediction for the upcoming One Punch Man Chapter 150 by leaving a comment below.
More About One Punch Man
Saitama spent the majority of his life as a regular guy, until one day he decided to become a hero for fun, and he put in a lot of effort to become extremely strong. Life was becoming monotonous once more because he had grown so powerful that he could defeat his opponents with a single punch. However, after meeting the cyborg Genos (who admires Saitama and his immense power) and deciding to join the Hero Association together, life begins to take an interesting turn.
One Punch Man is a Japanese manga series written by ONE and illustrated by Yusuke Murata. The manga has been serialized by Shueisha in 2012. Currently, One Punch Man manga has already produced 23 volumes. The first anime TV adaptation of the series was aired in 2015, having a total of 24 episodes and 12 OVAs.