Black Clover Chapter 290: Asta and Liebe Defeats the Devil Fused Lilith and Naamah
Author Yuki Tabata just dropped another epic chapter for the Black Clover manga series. The Black Clover Chapter 290 released on April 19, 2021, just showcased the outcome of the fight between Asta and the devil fused high-ranking devil.
In the previous chapter, we have seen how the two high-ranking devils of Black Clover series fused together after Asta and Liebe slashed Naamah into two. Their devil fusion surely increased their power and the cliffhanger of Chapter 289 sees Asta facing a huge attack from Lilith and Naamah.
The latest Chapter 290 continues where the previous manga chapter ended. The new Black Clover manga chapter titled "Highest vs Lowest" sees how Asta engaged his counter attack.
Time is Running Out for Asta and Liebe's Devil Union Form
With only two minutes left for Asta and Liebe's devil union form, the two consecutively attacked the fused devil in front of them.
In one of the spread of the manga chapter, Liebe was seen how he, the weakest of the first floor of the underworld, is matching against the high-ranking devil that he previously never stood a chance. Liebe thanked Asta for giving him a chance to fight these two devils in front of them.
Lilith and Naamah Experienced Fear
Meanwhile, Lilith and Naamah is confused of what's happening. All of their attacks are not working, thanks to Asta's anti-magic power. The two high-ranking devil experienced fear for the first time as what Liebe said.
Due to the unexpected situation that the two high-ranking devil experience, they tried to escape. But they were stopped by Nacht Faust who is currently on stand-by while watching Asta fight.
Asta and Liebe Defeats Lilith and Naamah
With the help of Nacht, Asta and Liebe managed to chase the devil fused high-ranking devil. As soon as they were able to reach the devil, they immediately launched an attack, slashing the fused devil into two.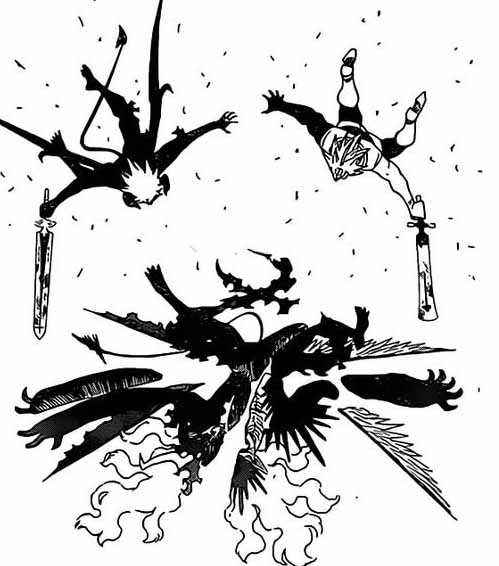 As I previously mentioned above, the devil union form of Asta and Liebe is almost over. Just right after attacking Lilith and Naamah, their union form have ended.
Black Clover Chapter 290 marks the end of the fight between Asta and Liebe against Lilith and Naamah. Asta and Liebe are the victor of this battle.
About Black Clover
Black Clover is a manga series created by Yuki Tabata. Since its serialization in February 2015, the manga has already garnered 28 volumes. You can read the Black Clover manga series on Viz Media and Manga Plus by Shueisha.