Boruto Chapter 48 Spoilers, Release Date: Koji's Identity Revealed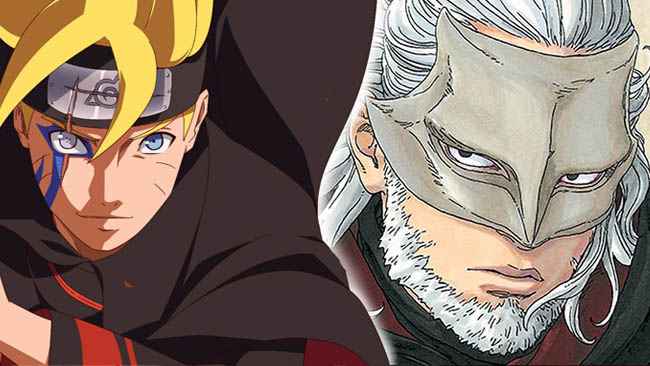 Ukyo Kodachi just dropped another epic chapter for the Japanese manga series Boruto: Naruto Next Generations. Following the release of Chapter 57, fans can no longer wait to read Boruto Chapter 48 after the unexpected character reveal.
The previous chapter showcased the continuation of the fight between Koji and Jigen. At the same time, Amado explains everything that he knows about Jigen. The fight between Koji and Jigen continues and during the fight, Isshiki Otsutsuki has finally been revived. While this is an exciting event to see in the next chapter, what caught fans off guard is the true identity reveal of Koji Kashin. Just before the chapter ends, Koji's mask has been broken and Isshiki revealed that Koji is the clone of Jiraiya.
The manga chapter shocked fans and are expecting more actions between Jiraiya's clone and Isshiki. Meanwhile, Naruto still doesn't have any idea of Koji's real identity as the scout frog has been detected. Will Naruto be able to learn about Jiraiya's clone? Let's find out once the new Boruto: Naruto Next Generation returns.
Boruto: Naruto Next Generations Chapter 48 Release Date
Boruto manga series has only been releasing one new chapter every month. Since the chapter for this month has been released, the upcoming Boruto Chapter 48 will be released in July. To be exact, the next Boruto manga chapter will be available on July 20th.
You can read Boruto: Naruto Next Generations Chapter 48 from the official manga distributors. Currently, Manga Plus by Shueisha and Viz Media are the only authorized partners for the manga series. You can also read the next chapter in the Weekly Shonen Jump magazine issue slated to release in the 4th week of July 2020.
Boruto Chapter 48 Spoilers and Predictions
Knowing the fact that Naruto still doesn't have the idea about Koji's identity, there's a chance that he will not be doing anything yet. However, the previous chapter states that he's truly concerned about him. Now that they don't have the eye to witness what's going on between Isshiki and Jiraiya's clone, Naruto and the others might make a move to get to the enemy's location. But before that, we could be seeing more fight between Koji and Isshiki. There's also a chance that fans will be seeing how Kashin Koji was created.
What do you think will happen in the next chapter? Looking for the official spoilers? As of writing we still don't have the raw scans and spoilers, so let's have a discussion on what may happen in Chapter 48.