Destroy All Humans 2 Reprobed Controls for PC, PlayStation, and Xbox
With the help of Black Forest Games and THQ Nordic, Crypto has returned to bring some terror in Destroy All Humans 2 Reprobed. To help you fight for human survival, this guide will show you the complete list of Destroy All Humans! 2 – Reprobed controls.
The game is currently available on PC via Steam and Epic Games Store, PlayStation 4, PlayStation 5, Xbox One, and Xbox Series X and S.
Destroy All Humans 2 Reprobed Controls
The following are the default Destroy All Humans! 2 Reprobed key bindings for PC. For the PlayStation and Xbox versions, you can skip this section and scroll down below.
Function
Key
Default
Move Forward
W / Up Arrow
Move Back
S / Down Arrow
Move Right
D / Right Arrow
Move Left
A / Left Arrow
Fire Weapon
Left Mouse Button
Extract / Interact
E
Weapon Selector
Q
Crypto
Jump / Jetpack
Spacebar
Dash / Skate
Left Shift / Mouse 1
Psychokinesis
Right Mouse Button / Mouse 2
PK Slam
B
Cortex Scan
R
Bodysnatch
F
Cancel Bodysnatch
G
Cancel Psi-Power
F
Follow
Z
Forget
X
Mind Flash
T
Zap-O-Matic
1 / Num 1
Dislocator
2 / Num 2
Disintegrator Ray
3 / Num 3
Anal Probe
4 / Num 4
Meteor Strike
5 / Num 5
Ion Detonator
6 / Num 6
Gastro Gun
7 / Num 7
Burrow Beast
8 / Num 8
Free Love
9 / Num 9
Saucer
Abduct-O-Beam
Right Mouse Button
Drain Energy
R
Death Ray
1 / Num 1
Anti-Grav Field
2 / Num 2
Sonic Boom
3 / Num 3
Quantum Deconstructor
4 / Num 4
Slurpmaster V8
5 / Num 5
Swap Saucer Co-op Controls
0
Repulse-O-Tron
Left Shift
Bird's-Eye View
Left Ctrl
Pox Mart
T
Gene Blender
Z
NaviCom
U
Menu
Tab Left
Q
Tab Right
E
Destroy All Humans 2 Reprobed Controls
Apart from the mouse and keyboard support, the developer of the game has also confirmed that Destroy All Humans 2 Reprobed has full controller support. If you're playing the game on a PC, you should not be facing any major issues when using a gamepad controller. However, if you happen to experience some controller problems, you can refer to our Destroy All Humans 2 Reprobed controller troubleshooting guide.
For the Xbox controls, here are the default buttons that you need to remember:
Crypto Controls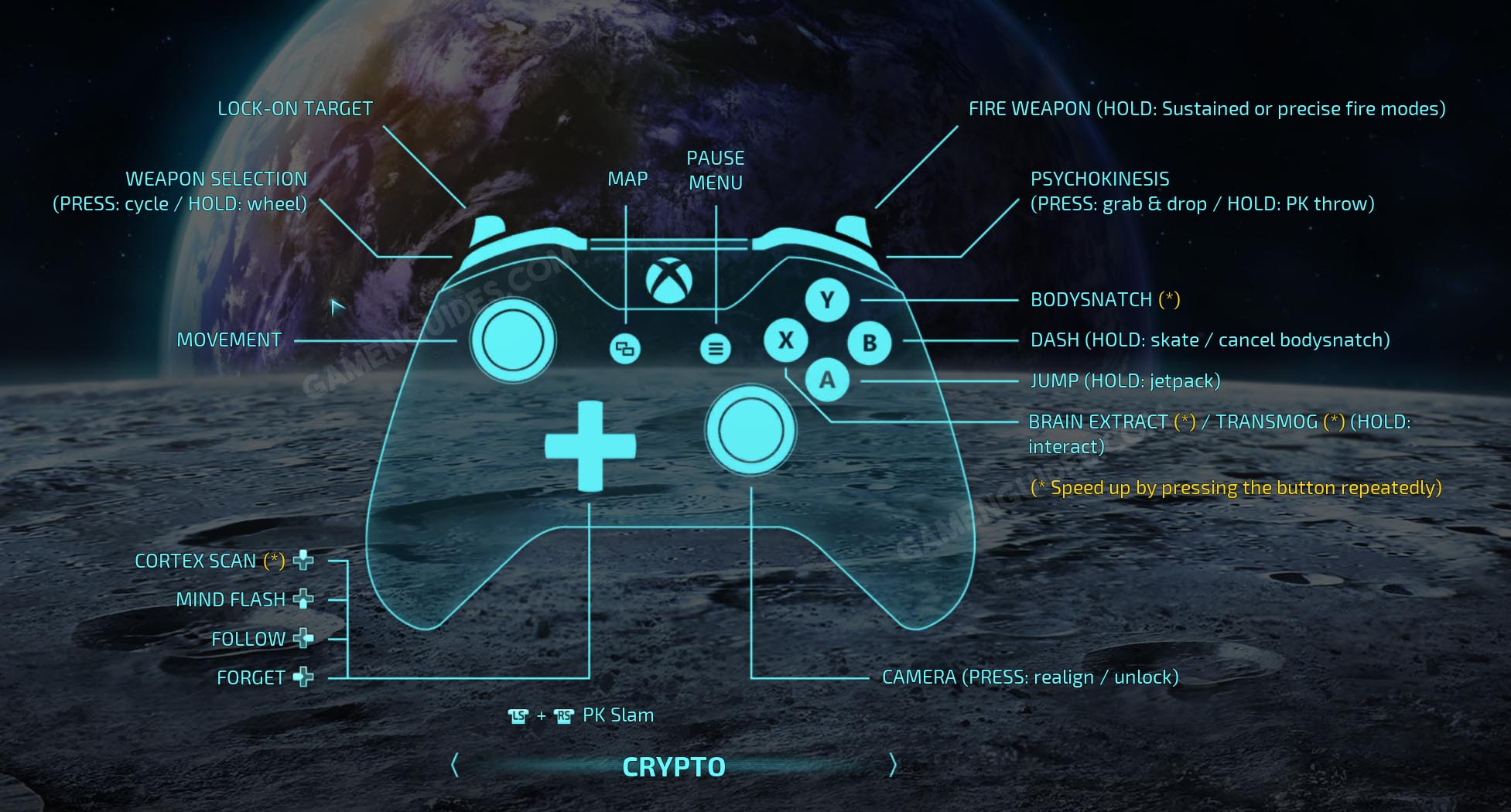 Saucer Controls
For PlayStation users, we still don't have the details for the default controls of the game. However, you can refer to the Xbox controls above and just use the corresponding buttons for each action. You can also visit the Controller section in the settings menu of the game for the details controls.