Dungeon Village 2 Achievement Walkthrough Guide
Here is a comprehensive walkthrough to help you unlock all the Steam achievements in Kairosoft's Dungeon Village 2.
Dungeon Village 2 Achievement Guide
Proof that the monster has become a friend.
Successfully tame a monster as a pet.
Helpful Tip: In order to tame monsters in Dungeon Village 2, you'll need the assistance of a Monster Tamer adventurer. The initial adventurer of this class is Fido Malkin, who begins frequenting the Plains map early on in the game. When embarking on quests such as "Infestation" or "Defeat the Monster," Monster Tamers possess a chance to successfully tame a monster.
I'm sure it will be an unforgettable town.
Proof of maximizing the town rank.
Reach a 5-star ranking on any map.
Useful Tip: It's important to note that you can complete this achievement on any of the maps available in Dungeon Village. However, each map has its own specific qualifications for earning star rankings. To check the requirements for each star ranking, simply follow these steps: Go to the Menu, then select Manage, and finally Upgrade Town. There, you'll find detailed information regarding the criteria needed to achieve each star ranking on the chosen map.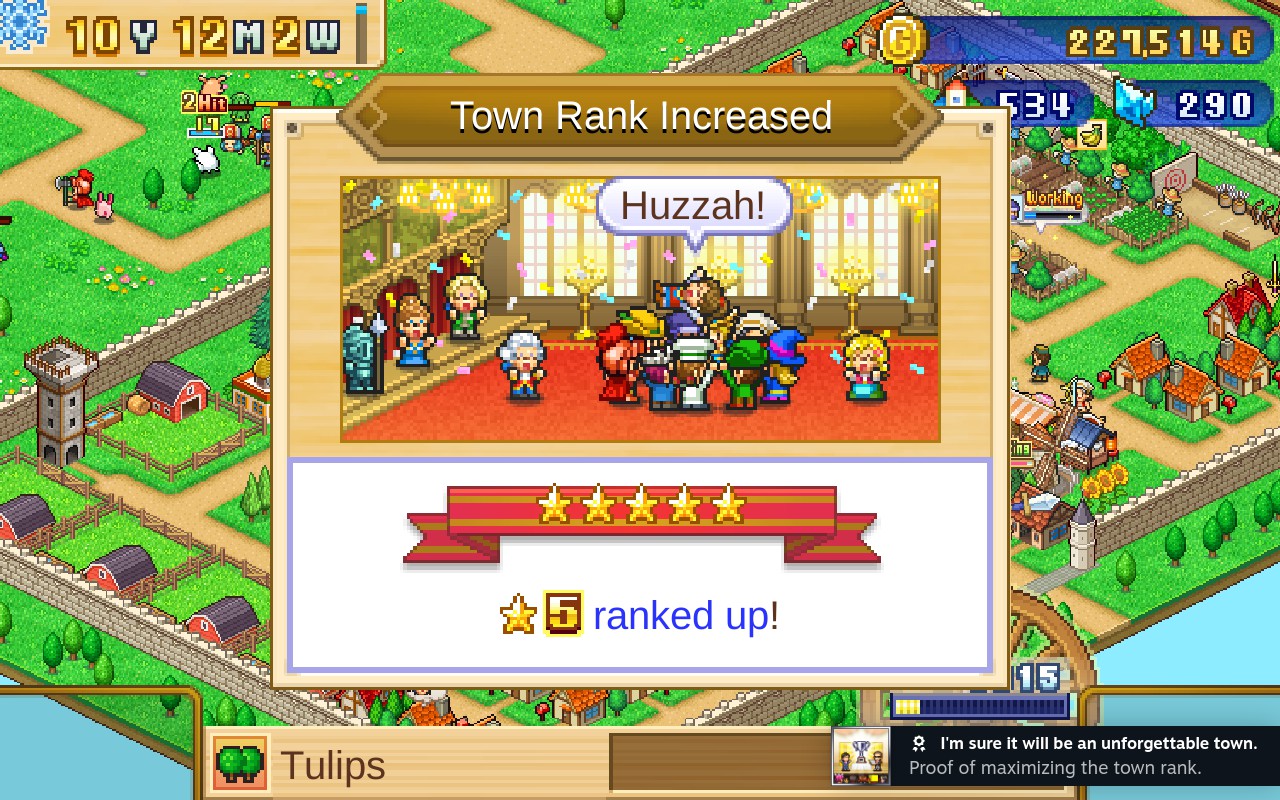 You can cry if you clear it.
Proof of contribution to the development of the two villages.
In Dungeon Village 2, there are a total of 7 maps, with the initial one being the Plains map. As you progress, you will eventually unlock the Forest map. The good news is that you have the ability to transfer some of your adventurers between these maps within the same save file. To obtain the achievement, you must successfully "beat" the first 2 maps by defeating their respective final bosses.
Tips: Achieving victory on a map involves overcoming the final boss specific to that area. In the Plains map, you will face Dragington Sr. as the boss, while in the Forest map, the boss is Puddikin. To unlock access to the boss fight, you will need to complete a series of quests. Remember to undertake these quests and successfully defeat the bosses to progress towards unlocking this achievement.
I'm not scared if we live together.
Proof of having 30 homes.
As you continue playing Dungeon Village 2, adventurers who are highly satisfied with your town will express their desire to relocate there. To unlock this achievement, you will need to have 30 occupied homes within a single map.
Tips: This task becomes considerably easier in a higher-ranking town, especially after unlocking town expansions. It's crucial to have enough space to accommodate the additional houses. Playing on a single map for an extended period makes achieving this goal more straightforward. It's worth noting that the earliest opportunity to accomplish this may be on the Forest map since adventurers from both the Plains and Forest maps will be interested in moving to your town simultaneously.
I also want to give you the title of charisma manager.
Proof of 50 titles earned.
In Dungeon Village 2, you can earn titles by combining different traits within the game. These traits can be obtained through various actions such as constructing specific buildings, utilizing different items, selecting particular classes for adventurers, and more. Each map offers a broader range of titles to achieve.
Tips: To understand the requirements for each title, navigate to Menu, then select Manage, and finally click on Town Guide Contest. This will provide you with information about the prerequisites for different titles. Additionally, at the end of the third month each year, you will receive a town title based on your accumulated trait points. You can check your town's details by going to Menu, then Info, and selecting Town Details. On page 3 of the details, you will find additional information about each trait. If you have earned points towards a specific trait, you can view the specific actions or factors that contributed to those points. Keep in mind that some traits may only be achievable in later maps, so progression is key to unlocking them.
SLG that weaves the future with me.
Proof of becoming Kairobot.
Once you have achieved a 5-star rank on the Tropical map, the third map in Dungeon Village 2, you will unlock the prestigious Kairobot job. To earn the corresponding achievement, you need to have one of your adventurers switch to this particular job.
Tips: The Kairobot job comes with specific requirements. You must accumulate 25 diamond points and possess 10 medals to unlock it. It's important to note that only male adventurers can choose this job. Diamond points are rewarded as you earn different titles throughout the game. Additionally, medals are awarded sporadically but consistently when you reach population milestones in increments of 100 points.
Make sure to keep an eye on your title progress and population milestones to earn the necessary diamond points and medals for unlocking the Kairobot job and attaining the achievement.
This guide about
Dungeon Village 2
was written by
pamkhat
. You can visit the original publication from this
link
. If you have any concern about this guide, please don't hesitate to reach us
here
.