Manor Lords Beginner's Tips and Tricks
Have you ever wondered how to have a successful settlement in Manor Lords? Well, if you have been failing to have a wealthy settlement in the game, you may have been missing out on something. But what could that be? In this guide, we will be giving you some of the best tips and tricks that you should apply to have a successful settlement in Manor Lords.
Immediately Pause the Game
As soon as you enter the world that you're about to conquer, immediately pause the game. You can do this by pressing the pause button in the lower right corner of your screen.
Pausing the game will temporarily stop the time of the world, which means that your food supplies are intact. If you don't pause the game, your people will start consuming it. Since you just started the world, you still have to plan out everything like roads, buildings, and areas where you need to place important buildings.
Road Planning
Now that there's nothing to worry about starving your people, start planning out for your roads. Building roads in Manor Lords is free, so you build roads as many as you want.
Roads are one of the most important things to make a settlement work, so make sure that every corner of your settlement is in a good position.
Building Production
After making the roads, the next thing you need to do is construct some buildings. This is actually one of the early tasks that you need to do. However, you must know where to properly place those buildings as they will result in production efficiency. For example, put that Logging Camp near the forest, along with Forester Hut to replenish the trees that have been cut down.
Assign Jobs to Peasants
After you manage to construct the needed buildings, it's time for your people to start working. Make sure that you assign every village to do something like gathering resources. Otherwise, you will find unassigned villagers doing nothing while consuming food resources. We don't want that to happen to our settlements as we may face food shortage.
Note that while you can assign jobs to the villages, some of them will still not work. You can find them by clicking on the People tab and forcing them to do some work.
Take Advantage of the Seasons
There are 4 seasons in Manor Lords. Just like in real life, there are a lot of things that you need to consider for every season. Here is the quick Manor Lords season overview:
Spring (Mar-May) – Frequent raining. Berry deposits regrow. Ploughing for quick summer harvest possible.
Summer (Jun-Aug) – Crop harvests start in later Summer.
Autumn (Sep-Nov) – End of harvests. Ploughing and sowing crops recommended for maximum yield next summer. Berries start disappearing.
Winter (Dec-Feb) – Berry deposits vanish. Firewood is required for survival. Sheep shearing forbidden. Chance of getting ill.
Keep an Eye on the Banner
While you can monitor the daily lives and needs of your settlement, it is always a good choice to frequently check the banner in the UI. This banner will give you some tips on what you have to build or gather next. For example, the screenshot below requires you to have enough fuel and shelter for the upcoming winter season. You can also see the possible result of not meeting this requirement.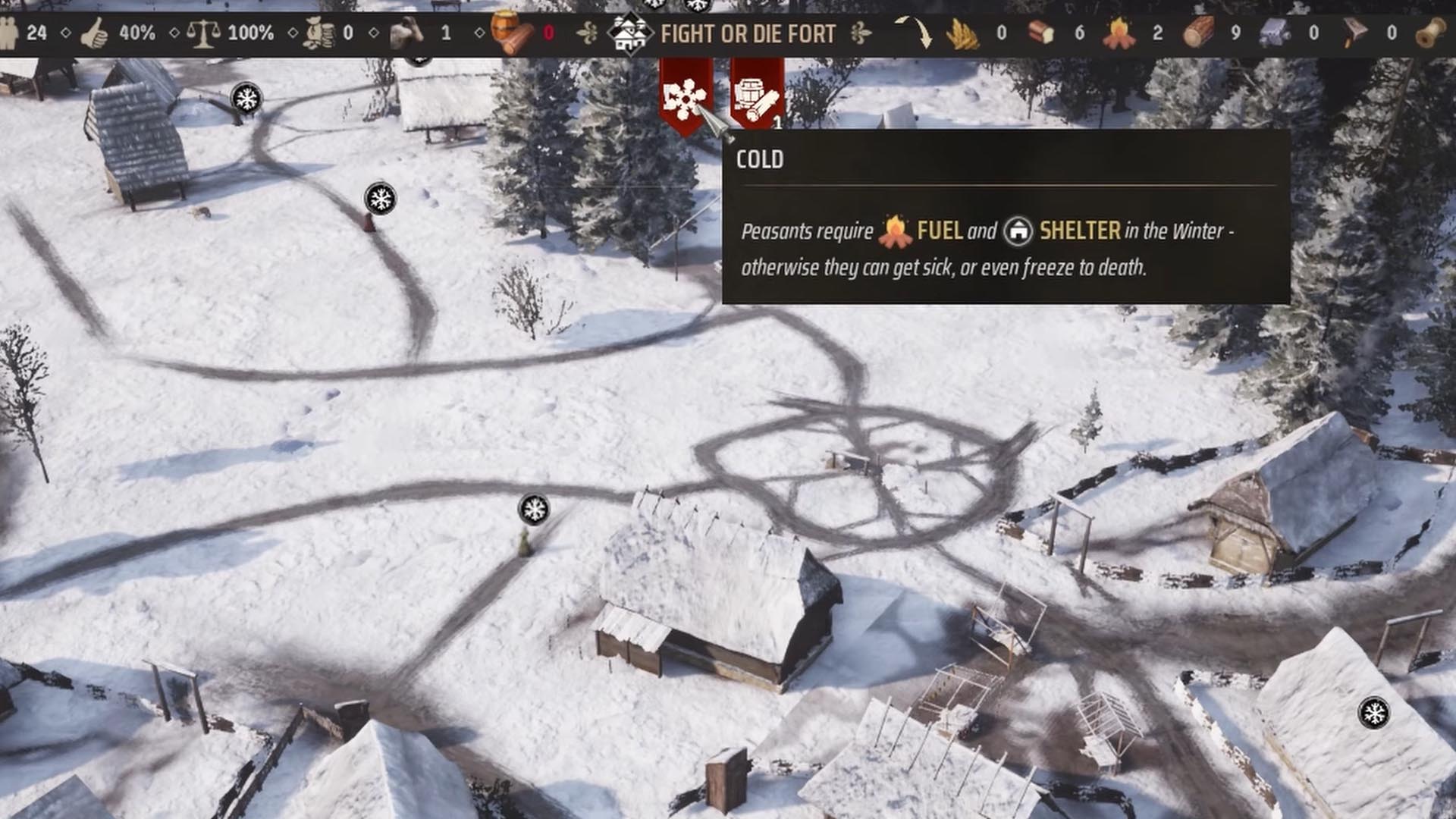 Construct More Houses
Another thing that you may want to consider to increase your worker is by constructing more houses. Note that some of the villagers in your settlement will not work. To make them do some job, you need to give them a house. For every house you construct, you also get 1 worker.
This concludes our Manor Lords tips. Make sure that you complete the in-game tutorial to further improve and understand how the game works. You can also check some of the tutorial videos on YouTube to learn more.