WW2: Bunker Simulator PC Keyboard Controls
Want to experience the war during World War II? If so, here are the WW2: Bunker Simulator controls to help you get started.
For those who are planning to change the following default WW2: Bunker Simulator keybindings, go to the settings section of the game. Be reminded that you can only change the default controls after the completion of the tutorial of the game, which happened at the very beginning of WW2: Bunker Simulator.
WW2: Bunker Simulator Controls
Movement
W – Move Forward
A – Move Left
S – Move Backward
D – Move Right
Left Ctrl – Crouch
Spacebar – Jump
Shift – Sprint
Action
Left Mouse Button – Shoot / Hitting
Right Mouse Button – Aim Down Sight
R – Reload Weapon
E – Pick Up / Use
F – Use of an item on yourself
Q – Drop Item
C – Move to the Backpack
V – Instantly Put into the Backpack
P – Create Project Show/Hide Projects
L – Take Out/Hide a Shovel
T – Training
Spacebar – Exercise / Wake Up
X – Hold Breath
Other
Tab – Show/Hide All Panels
I – Open/Close Backpack
M – Open the Mission Panel
B – Bunker Locator
J – Journal
F1, F2, F3 – Give an Order
F5 – Order Everone to Sleep
F9 – Show/Hide Panel Gun Status
F10 – Show/Hide the Watch
F11 – Keyboard Mapping
You can also refer to the in-game controls screenshot of WW2: Bunker Simulator below: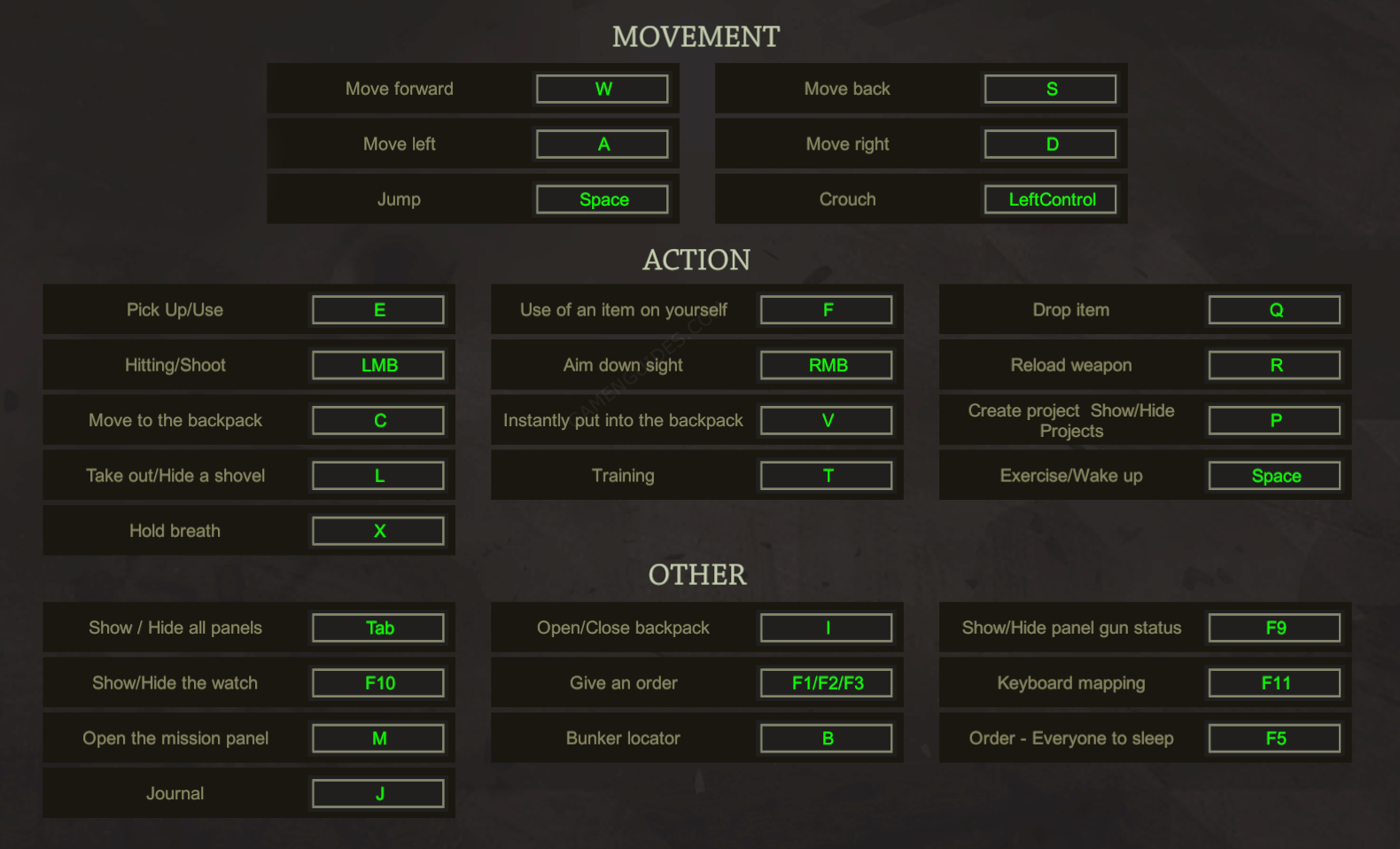 And this is everything about the WW2: Bunker Simulator keyboard controls and shortcuts. Feel free to leave a comment below if you have any questions.