Dinkum Controls and Shortcuts Guide
Dinkum is the newest life simulation video game by James Bendon. In the game, you will be able to build, explore, and even hunt some useful goods for your survival.
There are lots of things that you can do in the world of Dinkum. However, doing these kinds of things is not possible if you don't know the basics of the game. This page will offer all of the default Dinkum controls to help you get started.
Dinkum Controls
The following list of Dinkum key bindings and shortcuts are fixed. Unfortunately, we were not able to find any in-game option to modify or remap these action keys for the game.
Action
Key
Movement
Move Placement
W A S D
Drop Item
Q
Dismount
Dive
Pick Up Placed Item
Rotate Preview
E R T
Open Pockets
Tab
Hold to Move Camera
Hold and Click to Quickly Move Stacks in Inventory
Shift
Journal
Close Window
Esc
Open map
M
Jump
Space Bar
Open Chat
Emote
Confirm Button
Enter
Use Item in Hand
Confirm Placement
Left Mouse Button
Hold to Move Camera
Scroll to Swap Items to Toolbelt
Middle Mouse Button
Interact
Pick Up
Right Mouse Button
Dinkum Controls
It is also worth noting that you can use alpha 1 to 0 to use and perform several actions in the game. You can learn more about the Dinkum controls using the in-game controls screenshot below: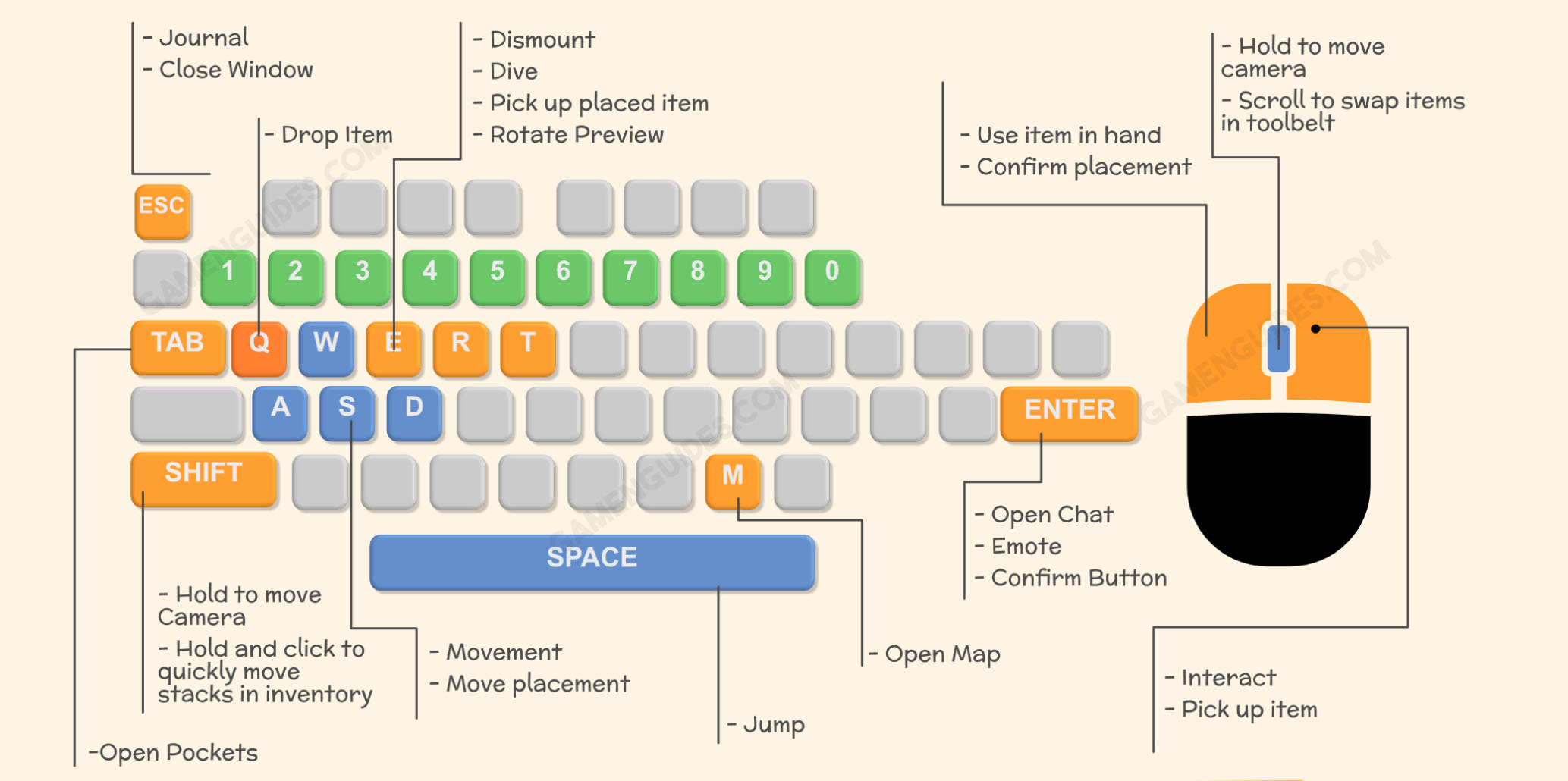 With all the listed controls above, you're now ready to set your journey in Dinkum.
This concludes our Dinkum keyboard and mouse controls guide. In case we missed any important key controls of the game, please don't hesitate to let us know.