Exodus Borealis PC Keyboard Controls
Exodus Borealis is finally out from its early access and the developer has officially launched the game. If you're planning to experience this new city builder and tower defense game, here are the Exodus Borealis controls to help you get started.
Exodus Borealis Controls
Left Mouse Button – Action / Selection
Right Mouse Button – Cancel / Deselect
W / Up Arrow – Forward
S / Down Arrow – Backwards
A / Left Arrow – Left
D / Right Arrow – Right
Q – Rotate Clockwise
E – Rotate Counter-Clockwise
Page Up – Rotate Up
Page Down – Rotate Down
= – Zoom In
– – Zoom Out
Left Shift – Fast Movement (Hold)
Right Mouse Button – Mouse Movement (Hold)
Middle Mouse Button – Mouse Rorate (Hold)
R – Rotate Clockwise
T – Next Build Variation
1 – Low Priority
2 – Normal Priority
3 – High Priority
X – Cancel / Destroy
C – Copy Selected
Z – Rebuild Destroyed
F1 – Build Civilian
F2 – Build Defense
F3 – Job Management
F4 – Research
F5 – Citizen Details
F6 – Statistics
Space – Pause (Toggle)
F8 – Pause
F9 – Standard Speed
F10 – Double Speed
F11 – Quadruple Speed
V – Invader Healthbar (Toggle)
` – Screenshot Mode (Toggle)
Note that some actions in the game don't have default keyboard bindings such as Rotate Counter-Clockwise, No Priority, and Octuple Speed. Go to the keybindings section of the game to manually set your desired keys to these actions. You can also check the full Exodus Borealis keybindings in the screenshot below.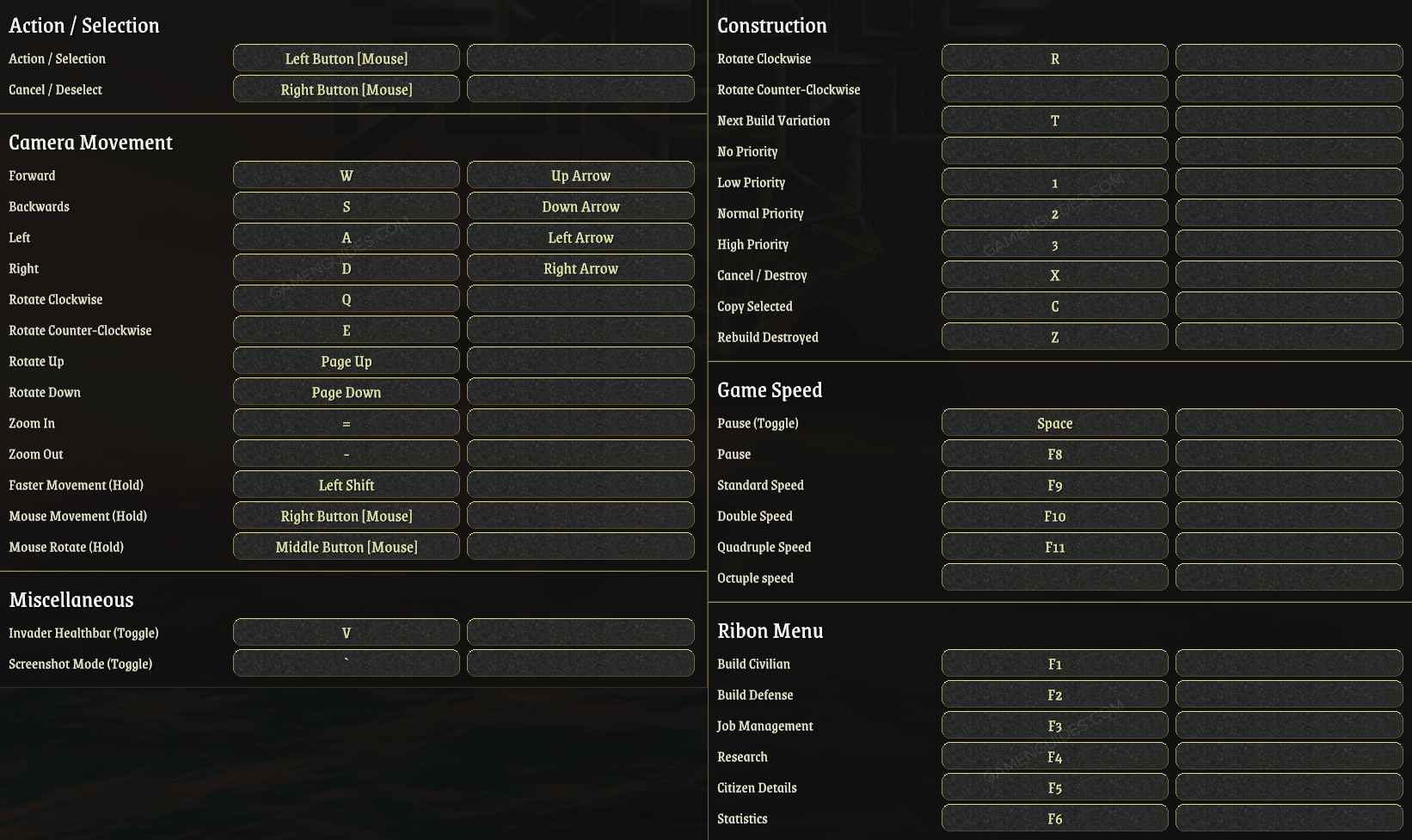 And this is everything you need to know about the Exodus Borealis controls. Let us know in the comments if you have any suggestions to improve this guide.