Fruits Basket Season 2 Episode 13 Release Date
Fruits Basket 2nd Season is one of the anime released this year. Despite the pandemic happening in Japan, the production team still managed to release new episodes for the series. The new season is the continuation of the first season of the series based from the original manga written by Natsuki Takaya.
The second season is now heading to the Episode 13 and fans are now excited to watch the new episode. Unlike the other anime such as One Piece and Boruto, Fruits Basket Season 2 will continue releasing new episodes without taking a break. In this anime guide, we will be sharing you when and where to watch the 13th episode of Fruits Basket 2nd Season.
Fruits Basket Season 2 Episode 13 Release Date
Knowing the fact that the government of Japan has already loosened the rules avoid more virus infection, it's a piece of good news for all Fruits Basket fans. If everything goes well for the next few days, expect to watch the episode of Fruits Basket Season 2 on Tuesday, June 30th. If you're in the west, you can watch Episode 13 on June 29th since Japan is a few hours ahead than the US.
Fruits Basket 2nd Season Online Streaming
You can watch the upcoming episode on TV Tokyo and TV Aichi, only if you're in Japan. Apart from these local TV stations, you can also follow Sohma, Honda, and their friends by streaming the series online. As of writing, you can watch the 2nd season of Fruits Basket on Crunchyroll, Funimation, VRV, and Animelab.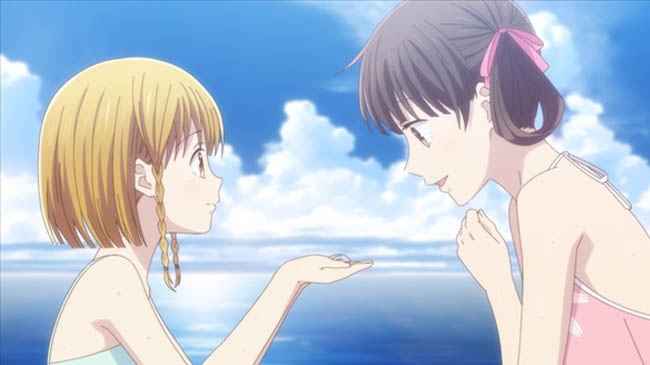 Fruits Basket Season 2 Cast
In case you're not aware, the voices that heard in the previous season will be the same in Season 2 of the anime series. Below is the list of the full cast of the anime.
Manaka Iwami as Tohru Honda
Nobunaga Shimazaki will voice rat boy Yuki Sohma
Yuma Uchida as Kyo Sohma
Yuichi Nakamura as Shigure Sohma
Atsumi Tanezaki as Arisa Uotani
Satomi Satou as Saki Hanajima
Rie Kugimiya as pig girl Kagura Sohma
Megumi Han as Momiji Sohma
Makoto Furukawa as Hasuharu Sohma
For a more detailed cast, feel free to check this link.
According to Anilist, an anime and manga tracking website, Fruits Basket 2nd Season is the 3rd highest-rated anime series in 2020.