Gunfire Reborn Mobile: A Roguelite FPS Mobile Game You Shouldn't Miss
Gunfire Reborn Mobile is an adventure level-based game that featured with FPS, Roguelite, and RPG elements. The game adopts Low-poly as basic art style.
Players can control heroes with various abilities to experience diverse builds, use randomly dropped weapons and items to explore random routes, and grow stronger gradually in a never-ending reincarnation loop. Meanwhile, Gunfire Reborn Mobile supports both a solo mode and a co-op mode with up to four players to embark on the exciting adventure together.
As a Steam-ported game, Gunfire Reborn Mobile has also optimized its basic control and weapon shooting performance in order to keep the authentic and refreshing style to the maximum on mobile devices.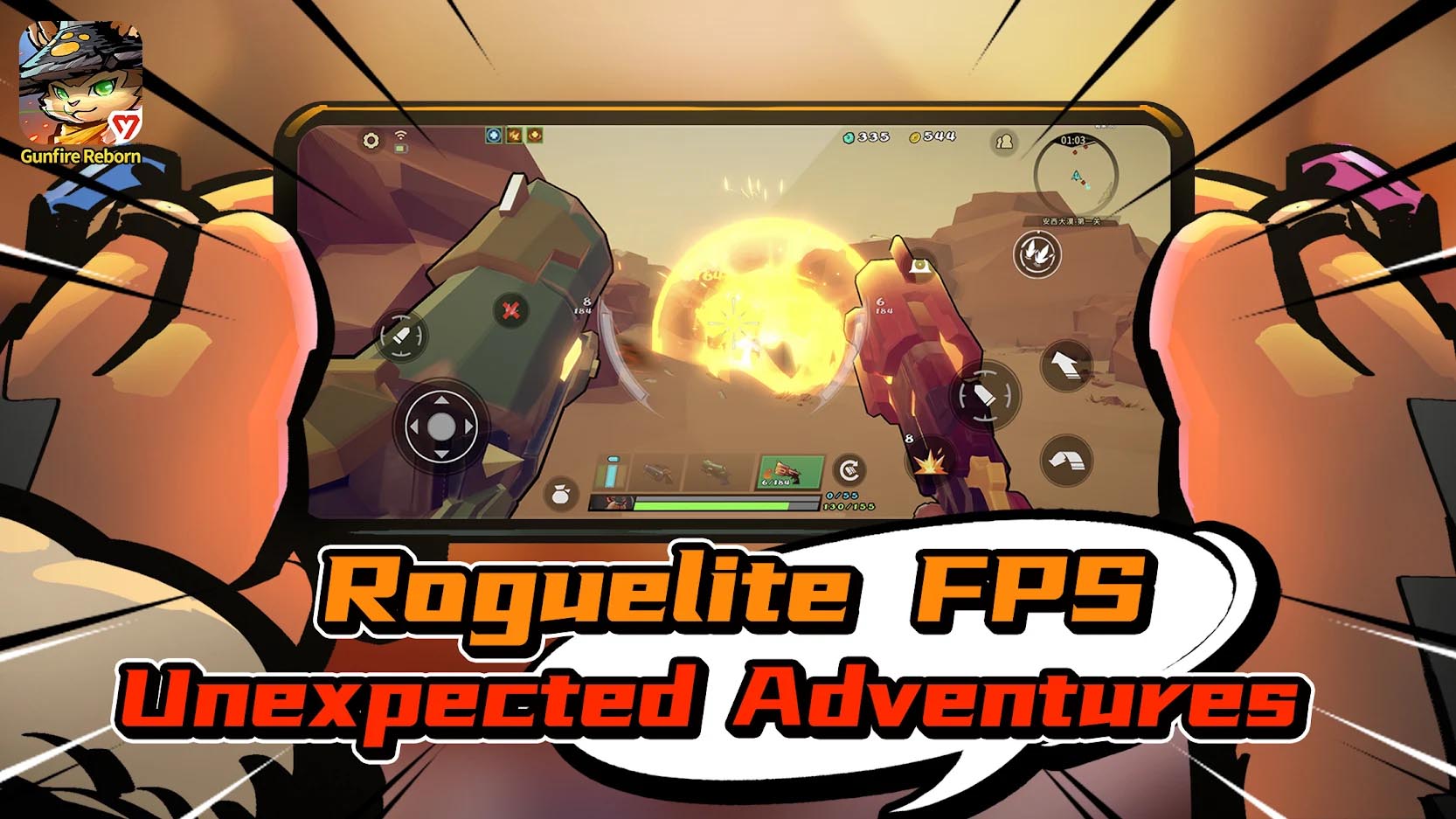 Basic Gameplay & Levels
There are three kinds of difficulties (Normal, Elite, and Nightmare) to choose from. A player's adventure will begin at Normal. After completing all Normal stages, the next level of difficulty, Elite will be unlocked, and then the Nightmare. In addition, players could start a solo adventure or team up with friends while exploring the game. Specifically, a squad of up to four players, as well as a single player mode, are supported. Clearing stages in either of these two modes will unlock the next difficulty level.
The coming version contains three main Acts, [Longling Tomb], [Anxi Desert], and [Duo Fjord], each of which has 3 or 4 sub-levels for adventurers to challenge. The portal to the next level will open upon defeating all enemies including the boss. Meanwhile, players will be rewarded with a Golden Goblet treasure chest at the end of each level. This chest will offer three [Ascension] options which may determine the direction of one's builds in the current run.
Furthermore, there are secret Vaults waiting for players to explore. After learning the talent [Exploration], players could be able to break cracks scattered in map corners and obtain extra Occult Scrolls upon defeating Elite monsters in those Vaults.
Game Elements
There are two kinds of currency in Gunfire Reborn, the Copper and the Soul Essence. Both of them could be obtained in battles upon defeating monsters. The Copper can be used to purchase items and enhance weapons, but they cannot be brought back to the Inn(the main menu). Similarly, Soul Essence could be used to purchase some other items offered in battle, but they could be carried back to the inn and be used to upgrade the Talent Tree.
The Talent Tree includes five different branches, which are Expedition, Survival, Skill, Battle, and Weapon. In addition, each hero has his/her unique talent specialization. By developing the Talent Tree and the hero's own skill specialization, Players could be granted more benefits while in battle.
Three Heroes (Unlocked with level progress)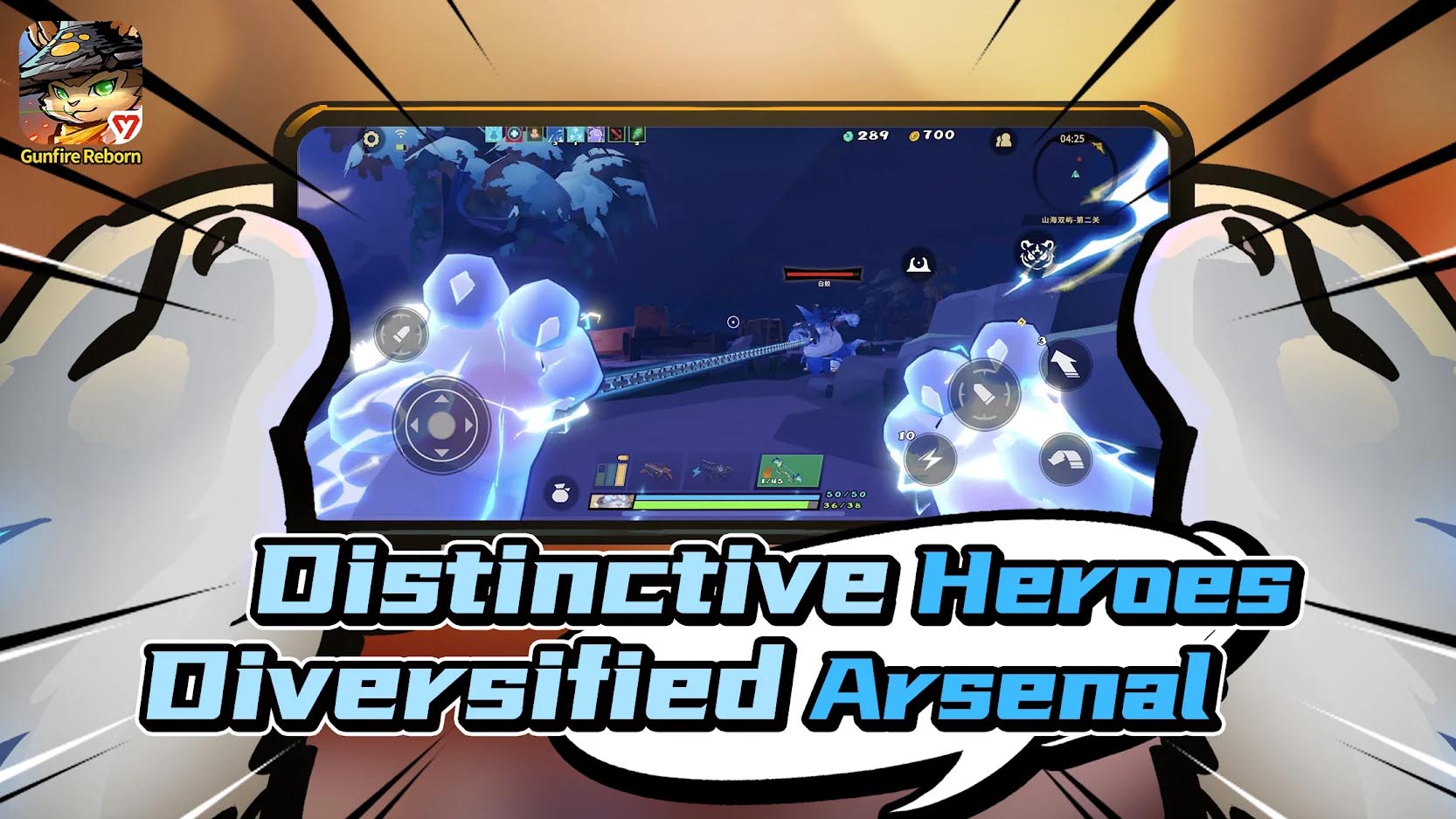 Crown Prince
A mysterious visitor from Spirit Realm who is proficient in alchemy and the elemental arts. With his alchemist expertise, the Crown Prince is able to trap and freeze the movement of his enemies with the Energy Orb. His hidden background has made him even closer to the elements. He combines various elements skillfully to create extraordinary effects.
Ao Bai
A master of explosions and firearms. Ao Bai's expertise with firearms allows him to control two weapons at the same time. Also, due to his passion for explosions, he has always been able to make powerful explosives.
Qing Yan
Qing Yan is a skilled martial artist who moves like the wind and is as elusive as a shadow. Unlike others, Qing Yan has a dislike of alchemy and shield and chooses instead to indulge in martial arts and Armor. With his martial art prowess, Qing Yan likes to leap into the fray to cleave enemies. That being said, he also likes the smoke and sound of shotguns.
A Refreshing FPS+Roguelite Experience
Gunfire Reborn Mobile combines FPS with a Roguelite and level-based mode. This gameplay enables players to undergo a vivid visual effect as well as a refreshing handheld-shooting experience. Meanwhile, the Roguelite feature ensures a random-level experience. Whenever you restart the game, you could get a full sense of freshness!
Distinctive Heroes, Various Arsenal
In Gunfire Reborn Mobile, a tactical match of weapons and scrolls can provide a powerful boost on your way to victory! As the challenge goes on, there are many unique heroes, dozens of weapons, and hundreds of scrolls available. By matching different heroes' talents, occult scrolls, and weapons, players can achieve dissimilar Builds, enjoy unique shooting experiences in a never-ending reincarnation loop, and create their own combat flows!
Go Solo, or Be Social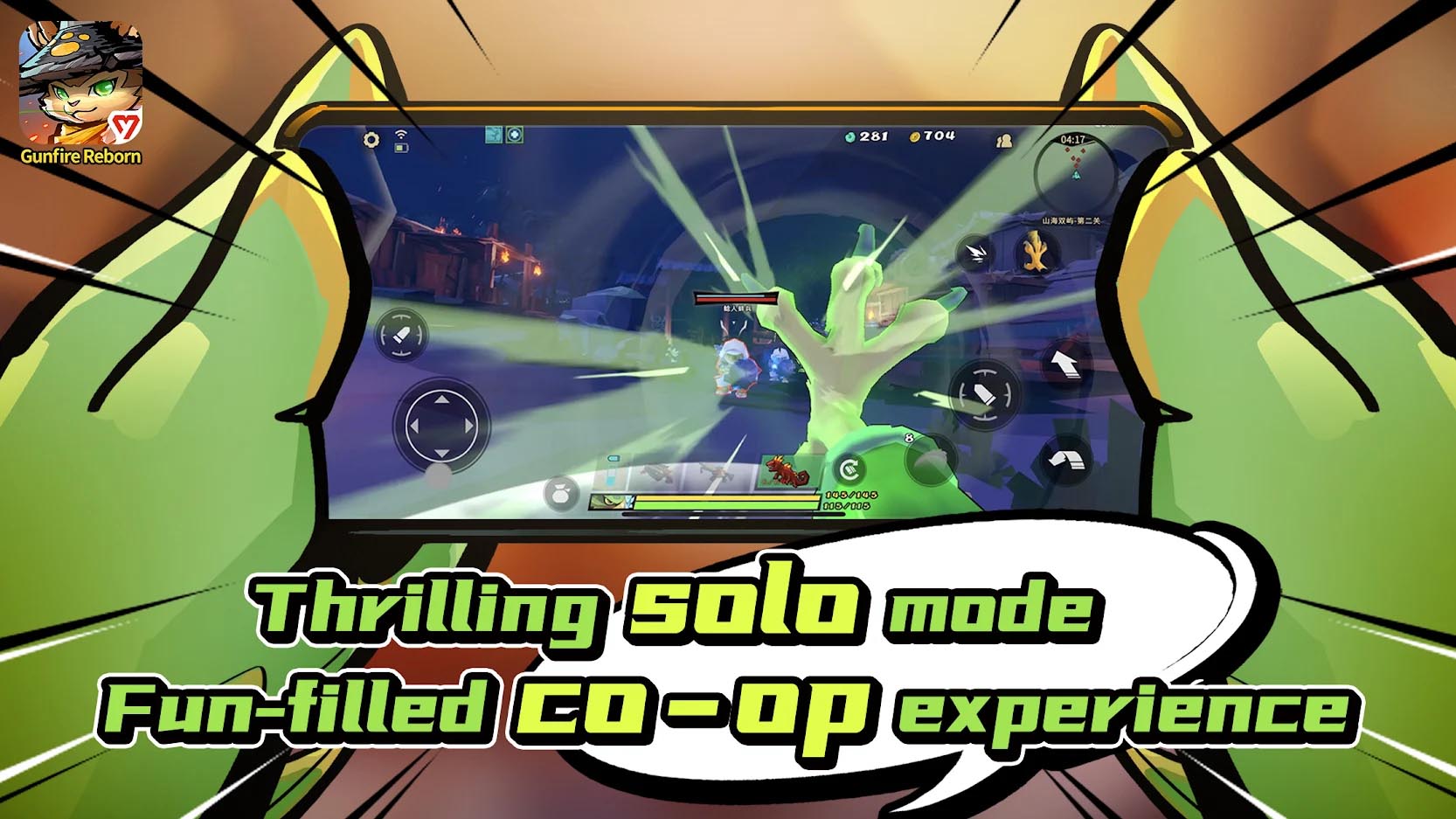 Gunfire Reborn Mobile supports two-mode, a single-player, and co-op (up to four players) mode. In the solo mode, players are supposed to utilize their shooting and dodging skills to resist attacks from enemies, which is very challenging! While in the co-op mode, teamwork becomes the key to success. Its unique "sharing" and "reviving" gameplay will offer a more interesting experience and unlimited possibilities!
After 2 Million of Sales on PC, Gunfire Reborn Is Now on Mobile
Since 2020, over 2.3 million copies of Gunfire Reborn have been sold on PC worldwide, and the game always maintains very positive reviews on Steam. Specifically, Gunfire Reborn has more than 60,000 positive reviews and a 94% positive review rate, and it was rated as one of the Gold "Early Access Grads" in Steam's "Best of 2021" list. Now, Gunfire Reborn is coming to mobile devices.
Unique Art Style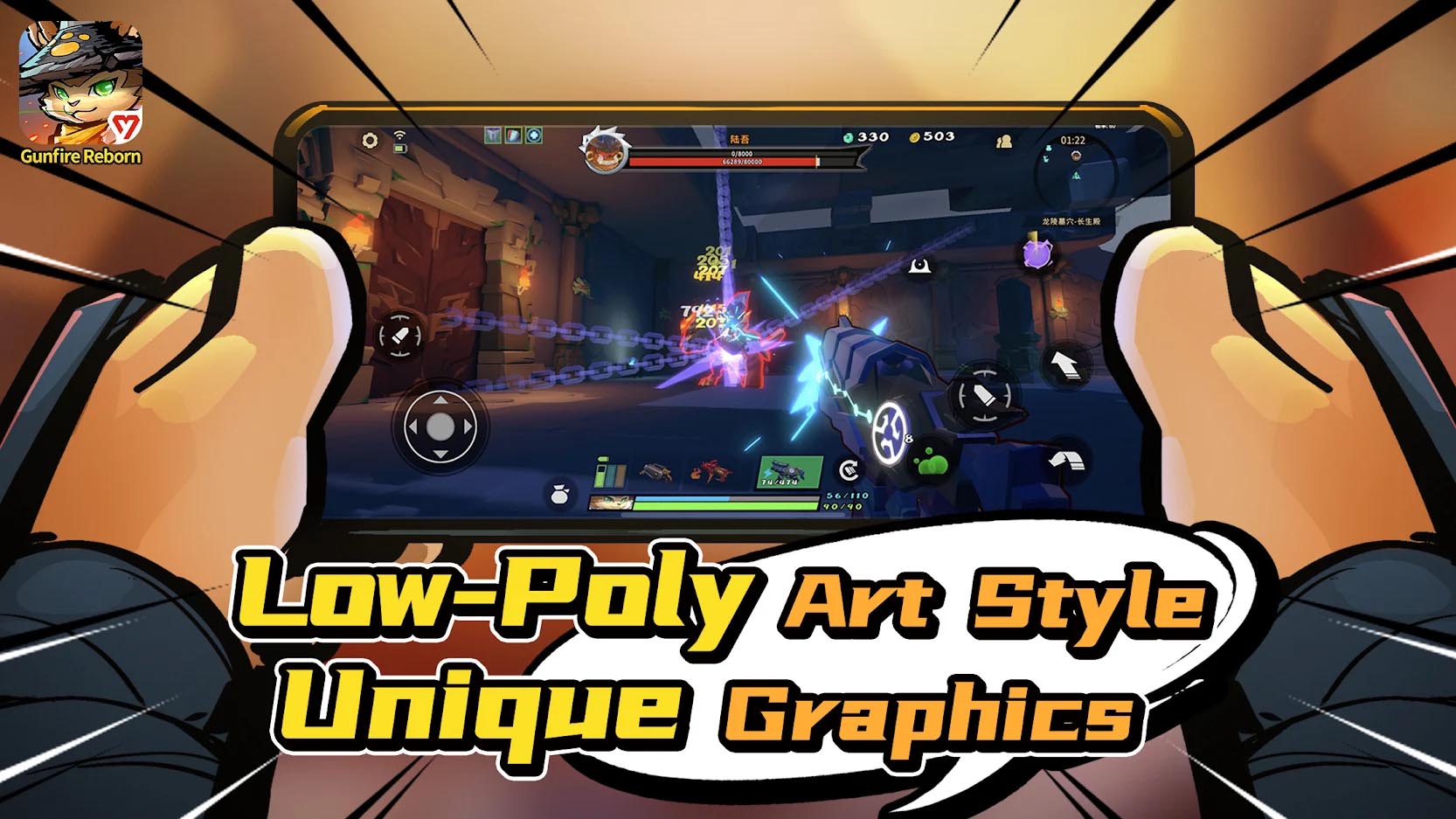 Tired of realistic-style shooting games? The art style of Gunfire Reborn Mobile may impress you. Different from other realistic military shooters, the unique Low-poly cartoon style adopted by Gunfire Reborn Mobile makes the whole picture more retro and three-dimensional. Its elaborately crafted game scenes, character modeling, and arsenal designs could also offer a unique experience. With all these features, Gunfire Reborn Mobile could be able to deliver artistic enjoyment that is different from traditional FPS games!
Authentic Gunfire Reborn Experience and Optimizations for Mobile Devices
Gunfire Reborn Mobile has reset and upgraded its touch screen controls, shooting performance, and combat flows and strives to achieve an authentic game experience on mobile. The optimized touch screen controls, the brand new UI layout, together with other Accessibility functions such as Automatic Fire, ensure an exciting and refreshing FPS experience on mobile devices. Gunfire Reborn Mobile has adjusted the shooting performance of all weapons to make them more in line with the habits of mobile game players.
Furthermore, Gunfire Reborn Mobile offers a faster combat flow. While keeping the original style of the Gunfire Reborn PC game to the maximum, the mobile version lightly adjusted its game size and difficulty.
Gunfire Reborn Mobile is currently available on both iOS and Android stores. Learn more about Gunfire Reborn Mobile by visiting the official website.