One of the most decorated cyclists in U.S. History, Sarah Hammer has won two Olympic silver medals at the 2012 London games, seven UCI world championship titles, eleven UCI world championship medals, and currently holds the world record in the 3-kilometer individual pursuit on the track.
Her 2012 Olympic medal haul broke a 12-year drought in track cycling medals won by American athletes. And she's not done yet. Sarah aims to ride for gold at the 2016 Olympic Games in Rio.
Amazingly, one of the most remarkable American track cycling careers almost never took place. Burned out from the rigors of competitive cycling, Sarah quit the sport in 2003 after just two years as an elite rider. With no plans to return, she sold most of her equipment, went back to school, and worked a variety of unfulfilling jobs.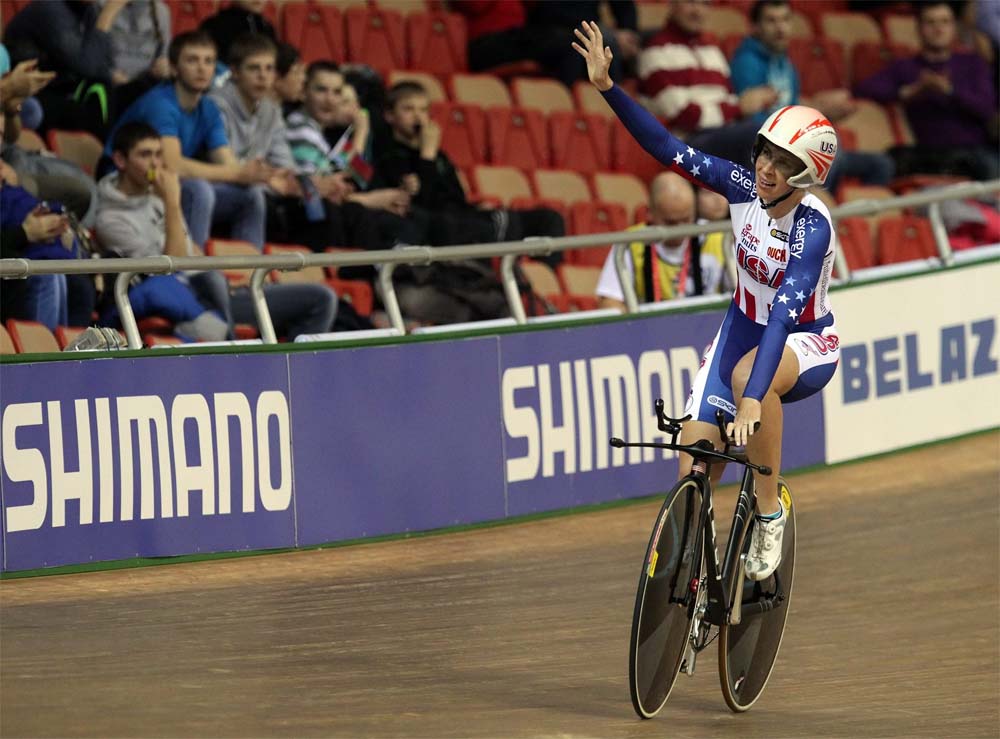 As fate would have it, Sarah was inspired to make a comeback after watching her former teammates and competitors race on track cycling's grandest stage at the 2004 Olympic Games in Athens. Later that year, Sarah returned to the bike at age 20 with a renewed sense of purpose, focus and commitment. She has gone on to set two world records — in the individual pursuit and as part of the team pursuit — and in 2011 became the first American woman to win three medals at a UCI Track Cycling World Championships.
Sarah's pursuit of perfection goes beyond the international awards and accolades she has collected in track cycling. In addition to being at the top of the sport, she strives to live a balanced life by spending time off the bike sharpening her mind and spirit by reading, hiking with her German Shepherd, Dolça, and exploring new places. Sarah studies world geography and how it relates, among other things, to cultures, languages, and politics. She also donates her time and supports multiple organizations that focus on youth development, most notably Classroom Champions.
Personal Statistics:
DOB: 8/18/83
Hometown: Temecula, CA
Height: 5'7″
Weight: 135 lbs.
Strengths: Track, Road Sprinting
Hobbies: Reading, Hiking with her Dogs, Skiing
Career Highlights
World Record Holder 3K Individual Pursuit – 3:22.2
Two-time Olympic Silver Medalist
Seven-time World Track Cycling Champion
2008, 2012 United States Olympic Team