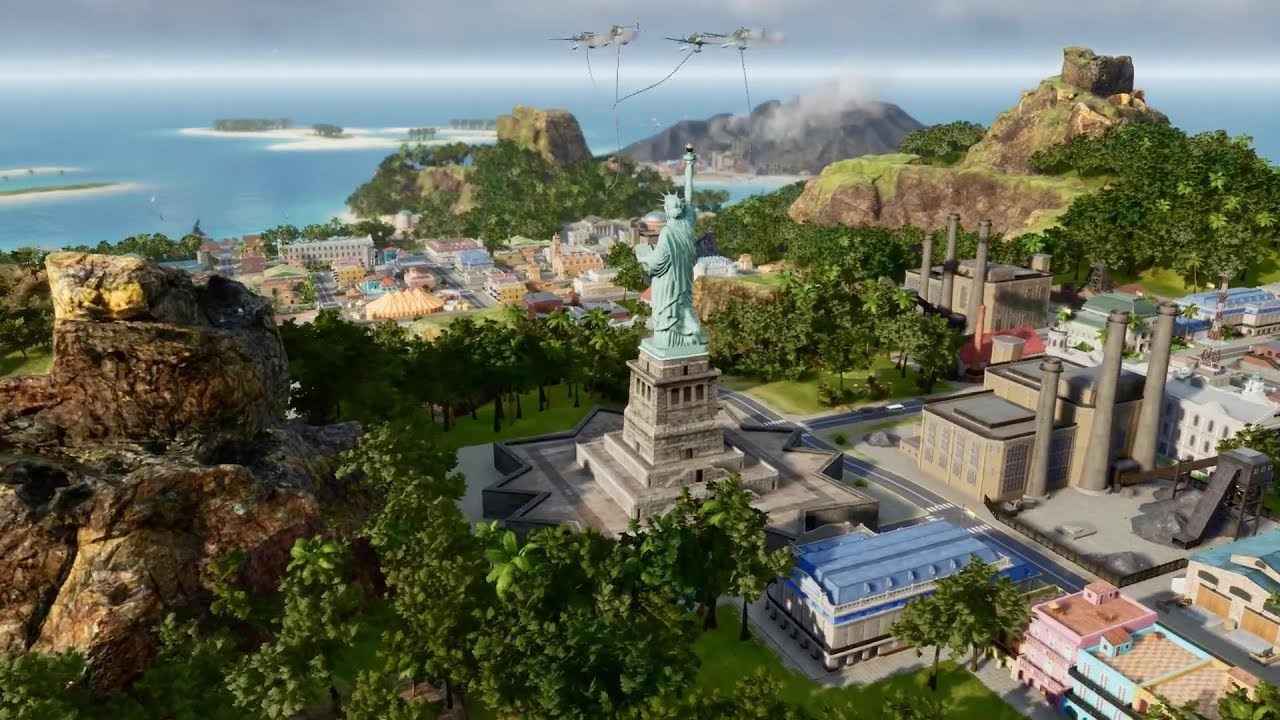 Tropico 6 Update 1.08 Patch Notes Released, Nueve 'Guagua' Added
Developer Limbic Entertainment has released the patch notes for Tropico 6 update 1.08. The new update has been rolled out today, April 23rd, to PC, PS4, and Xbox One.
The main highlight of the patch is the addition of Nueve Guagua on all platforms. Tropico 6 version 1.08 also includes bug fixes, stability, and performance improvements.
Interestingly, the new patch also activates the multiplayer crossplay between GOG, Origin, and Steam. Meaning, PC players will now be able to meet each other online no matter what platform they are using in the game. To know more about the update, you can check the changelog below.
Tropico 6 Update 1.08 Patch Notes
Bug Fixes
General
Fixed issue where Tropicans could get stuck at bus stops due to bus driver also waiting for a bus
Fixed issue where buses could get stuck if bus stops were demolished
Fixed issue where the Security Checkpoint in work mode 'Road Toll' would not generate money when 'Privacy Rights' Constitution option was active
Fixed issue where a change of era did not stop the invasion from Superpowers
Fixed issue where global happiness modifiers were not shown if the different effects had no impact
Fixed issue where Conservatives Ultimatum triggered an election even when Martial Law edict was active
Fixed Industrialist Ultimatum so it now affects pollution as described
Fixed issue where demolished buildings still showed in the Almanac
Fixed issue where demolishing a building under protest could lead to stuck Tropicans
Fixed issue where protests would not end even after the military solution was enacted
Fixed issue where tasks triggered by the 'Audience' edict would not show in task tracker
Fixed issue where edict 'Light Bulb Ban' did not affect all residential buildings
Fixed happiness for Caribbean Trade Pact Association so that it decreases over time as intended
Fixed issue where Tour Office work modes did not affect the efficiency correctly
Fixed issue where Tropicans could be detained in prisons without an available worker slot
Fixed issue where Tropicans refused to work as coconut harvesters
Fixed issue where Broker candidates in a Ministry would continue to generate Swiss money even after demolishing the Ministry
Fixed issue where all tourists had the same name in 'Ball Game'
Fixed issue where raids could not be completed due to all agents being killed in action
Fixed issue where Tropicans could marry themselves
Fixed issue where, after loading a saved game, Shopping Mall had multiple instances of the same goods
Fixed issue where the 'Relative Happiness' modifier in Agent menu always displayed '0'
Fixed issue where tunnels could get stuck in 'repair' state
Fixed issue where tunnel construction costs were not refunded even if construction was cancelled
Fixed issue where, in Bureaucracy, any in-progress bridge would show as a street sitting atop the water
Fixed minor glitches that occurred when placing roads
Fixed misleading description for the Eifel Tower
[Mac] Specific key-bindings for MacOS are now shown correctly during the tutorial and in the key-binding options menu
Fixed multiple crashes
Fixed several graphical glitches
Fixed several text issues
Multiplayer
[Multiplayer] Fixed issues where 'diplomatic relations' status would display differently for players and host
[Multiplayer] Fixed issue where freighter arrival time would display as '0 days'
[Multiplayer] Fixed issue where diplomatic interactions would not appear for players
[Multiplayer] Fixed issue where 'Tourist Only' buildings would not work for players
[Multiplayer] Fixed issue where the 'Smear Campaign' effect wasn't visible in Almanac
[Multiplayer] Fixed issue where landmarks could be delivered twice
[Multiplayer] Fixed issue where El Presidente image on 'Inspiring Billboard' was missing for players
[Multiplayer] Fixed issue where drought icon and notification were not showing for players
Llama of Wallstreet DLC
Added warning message to all saved games in which new DLC content is unavailable
Fixed issue where Toy Workshop upgrade 'Set A Sign' increased pollution instead of decreasing it
Fixed issue where effects of economic event 'Caribbean Hype' didn't match the description text
Fixed issue where, during the economic event 'Singularity', workers could be hired using a locked worker slot.
Improvements
[Windows-PC] Multiplayer cross-play enabled for GOG.
GOG players can now play with Steam and Origin players and vice-versa.
GOG MacOS support for cross-play will follow with the next update
The game now remembers last used monitor in a multi-monitor setup.
Tropico 6 is available on PC, PS4, Xbox One, macOS, and Nintendo Switch.