Wells Fargo Down and Website Unavailable Reported by Users
Wells Fargo is one of the biggest banking companies offering different banking services such as checking, savings, credit cards, loans, and mortgages. While it is known for having a good service, it seems that it is currently facing some downtime issues right now as reported by many users.
The main issue that many users are having right now is being unable to access the main website on their browser and mobile. To verify the report, we have checked their website and as seen in the screenshot below, we are also getting page error.
We have reached some of our partners and similar to what we've got, they are also getting some issues. Wells Fargo users have also expressed their frustrations on social media platforms like Twitter.
@WellsFargo currently 9:18 AM system is down online

— Lenny (@travels007) January 16, 2020
@Ask_WellsFargo is your online banking down?

— Holly Collins (@HollyCo75284692) January 16, 2020
@WellsFargo Website down again. This happens too often.

— Larry Wood (@LarryWood12) January 16, 2020
@Ask_WellsFargo keeps saying the website is on maintenance. any idea?

— Johnson Wu (@atojbk) January 16, 2020
Apart from the reports that we got, a well-known real-time outage report website, Down Detector, is also receiving a massive peek report. In the past few hours, the website has received more than 500 website report issues. Below is the outage map from Down Detector:
Update #1: Wells Fargo official website now shows the maintenance page. Still no official words on their social media networks.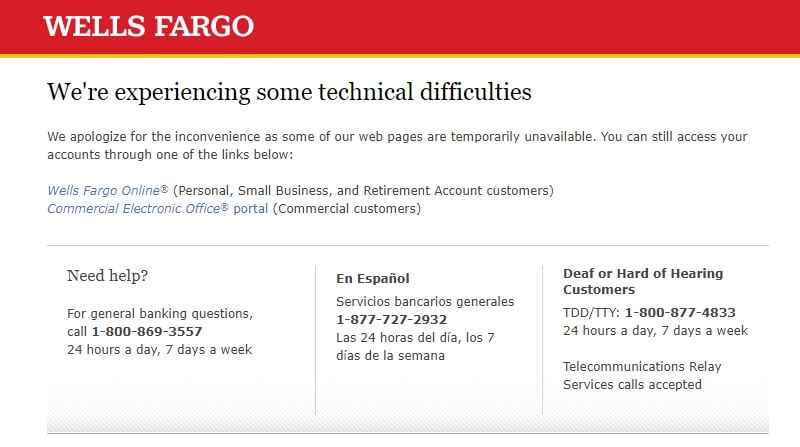 Make sure to bookmark this page to get the latest update as we will be taking a close eye into this issue.