WrestleQuest Announced, Coming to PC, PlayStation, Xbox, and Switch
Skybound Games and Mega Cat Studios have just announced WrestleQuest, their newest turn-based wrestler-themed RPG game coming to next-gen consoles, Nintendo Switch, and PC. Along with the press release, the video game company also released the first teaser trailer of the game, featuring a retro-like game.
The official release date of the game hasn't been revealed yet but it has been confirmed that it will be available this Summer 2022. WrestleQuest is coming to PC via Steam, PlayStation 4, PlayStation 5, Xbox One, Xbox Series X and S, and Nintendo Switch.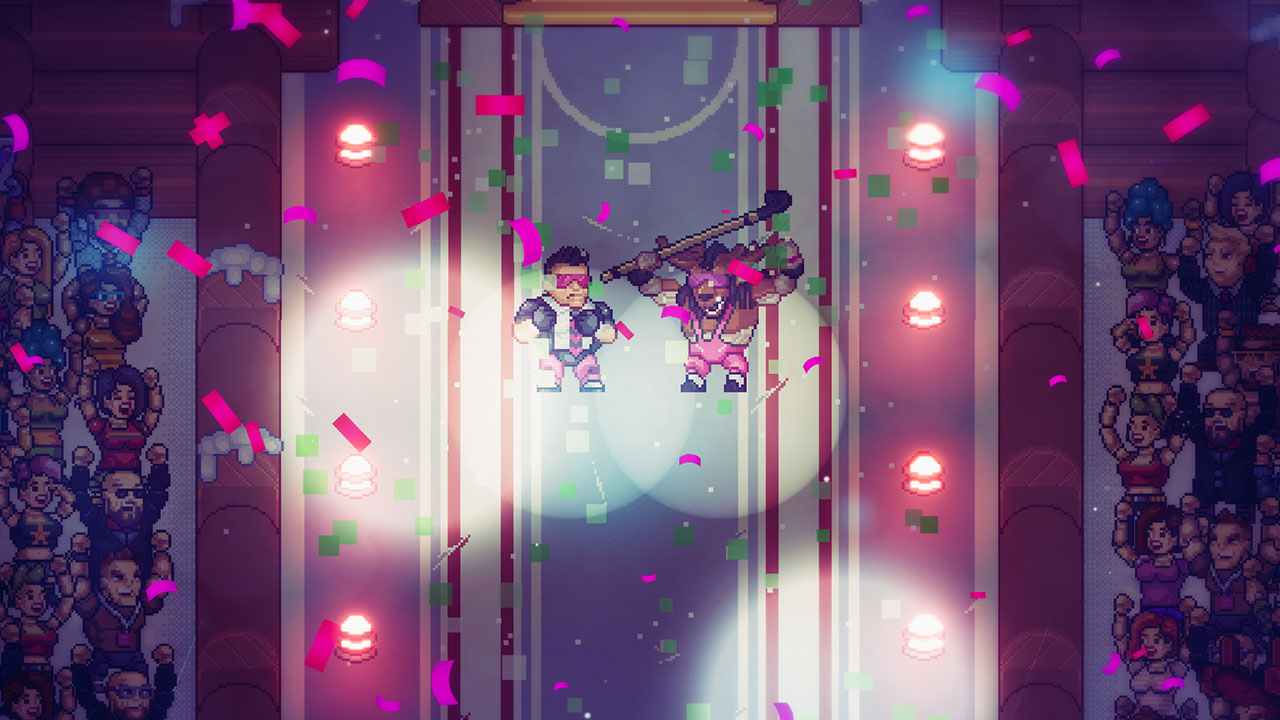 Here's the quick overview of WrestleQuest:
THE ULTIMATE PRO WRESTLING ADVENTURE – Powerbomb and piledrive your way through a massive pixel art universe where professional wrestling and RPG fantasy collide.
WRESTLE WITH DESTINY – Take a hero's journey …in tights! Upgrade from aspiring rookie to world champ by training, learning, glamming, and SLAMMING to the top of the pro wrestling food chain.
YOUR IDOLS AWAIT – Draw inspiration from wrestling icons like "Macho Man" Randy Savage, Jake the Snake Roberts, and even Andre the Giant. Explore worlds based on their lofty careers.
HEART-POUNDING ACTION – Classic RPG combat meet wrestling moves, match styles, and gimmicks galore.
GOOD GUYS, BAD GUYS, LIZARDS, ROBOTS, AND MORE – Wild realms, exotic monsters, action figure fighters, and spandexed allies await as this fantasy goes beyond the ring.
GEAR UP ON YOUR WAY TO THE TOP – Choose your moves, style, taunts, and even your entrance as you learn what it takes to be the cream of the crop in the pro wrestling world of your dreams.
Information from the press release:
In WrestleQuest, players assume the role of a young wrestling hopeful, on his quest to become one of the all-time greats while he powerbombs, slams, and suplexes his way to the top. Inspired by icons like the legendary "Macho Man" Randy Savage, our hero must immerse himself in the world of professional wrestling, which will not only test his athleticism but his will and conscience too.

Throughout the game, players will experience classic turn-based RPG combat that mixes real-time action with tactical choices, as they wrestle through a richly detailed and fantastic storyline, starting out as a newcomer, before ascending the ranks and becoming the sport's greatest star, with help from legendary wrestlers that span the ages. The pixel-art graphics and overall visual style perfectly represent the combined worlds of wrestling, toys, and action figures.

Players will meet and interact with a host of legends as they progress through their quest, including "Macho Man" Randy Savage, Booker T, Andre The Giant, Jake "The Snake" Roberts, Diamond Dallas Page, Jeff Jarrett, and many more. With tons of side missions, bonus content, and much more, this is the ultimate main event that you won't want to miss.
Are you excited to play WrestleQuest? Feel free to leave your feedback in the comments.