Jujutsu Kaisen Reveals Yuji Itadori's Parents
The Jujutsu Kaisen manga finally revealed Yuji Itadori's parents in the most recent chapter. In preparation for the next arc, some important revelations were made, Yuji's parents being one of the biggest ones, without a doubt.
Since the beginning of the story, nothing had been said about Yuji's parents. The series begins by showing only his grandfather, which soon led fans to question the whereabouts of the boy's parents.
Before we continue, please note that the remaining content of this article contains spoilers from the Jujutsu Kaisen manga. Continue reading at your own risk.
Who are the Parents of Yuji Itadori?
Chapter 143 of the Jujutsu Kaisen manga series has officially introduced Yuji's parents and there is something mysterious behind it all.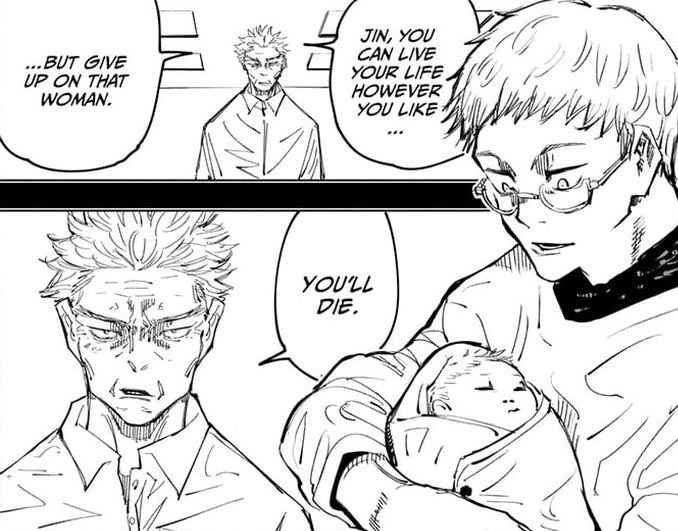 Here we see Jin, Yuji Itadori's father. After being defeated during his fight against Yuta Okkotsu in Jujutsu Kaisen Chapter 141, he has a dream where he sees his parents. It is strange to remember that since Yuji was a baby.
On this occasion, Jin is arguing with Yuji's grandfather. The grandfather warns that he must "get rid of that woman" or he would end up dying. Soon after we see Yuji's mysterious mother:
Although the scene ended here, the scars on this woman's forehead raised several theories as they closely resemble those of Geto, who hosts Noritoshi Kamo's brain.
About Jujutsu Kaisen
Jujutsu Kaisen is a manga written by Gege Akutami. The manga has been serialized and becomes part of the Weekly Shonen Jump Magazine by Shueisha in March 2018. You can read the latest chapter of the Jujutsu Kaisen manga series on Viz and Manga Plus.
The story revolves around a world where cursed spirits and curses overwhelm everyone, leading from suffering to death. One day, to protect his friends, Itadori Yuji consumes a cursed goal, thus acquiring his curse. From that moment on, Itadori enrols in the Tokyo Sorcerers School and is guided by Gojo Satoru, the greatest of the sorcerers.