Publisher Starbreeze has released the newest Payday 2 update 199.3 bringing fixes to known issues and minor game adjustments.
While the main purpose of this update is to address the issues that have been appearing in the game, it also brings some good news to all players. According to the details, update 199.3 also makes some adjustments to the skin drop rates. There are also some changes implemented in Holdout game mode to make things more interesting. In addition, the developer also decides to bring back Slaughterhouse and Diamond heist in Payday: The Heist which will unlock summer heisting outfits.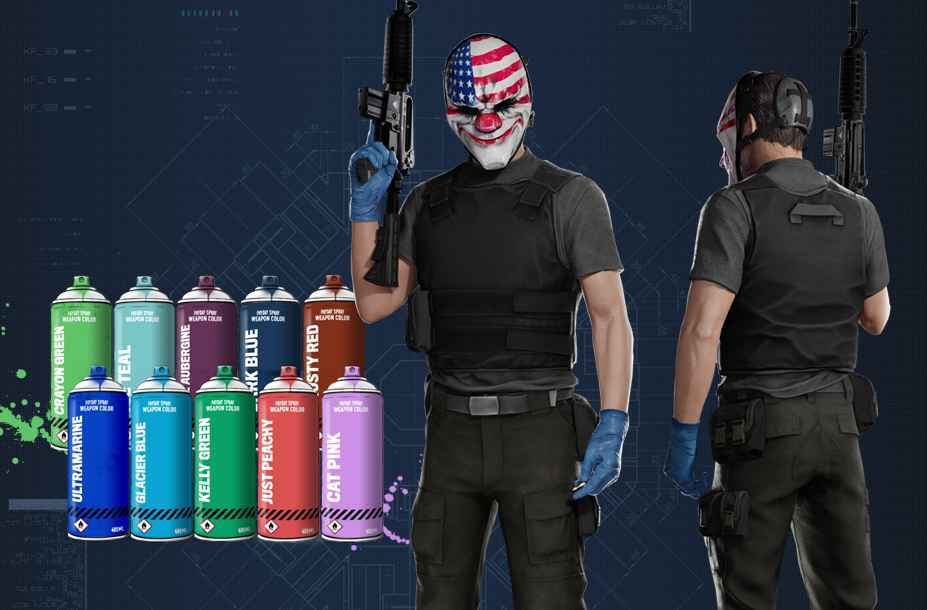 Apart from the mentioned new features above, this new Payday 2 update also brings 36 new achievements, two new menu songs, Legacy Tactical outfit, additional weapon colors, and more. To know more about the changes, you can check the official changelog below.
PAYDAY 2 Update 199.9 Patch Notes
General
Fixed a crash when going into custody while using sentry guns
Fixed an issue with switching profiles after purchasing assets using the "sixth sense" skill
Fixed an infinite loading occurring while previewing skins on the Steam marketplace when the Steam Overlay was disabled
Levels
Fixed an issue on Big Oil day 2 where the Guards would not get alerted when the basement door was opened
Fixed a potential soft-lock on Biker Heist day 1 if certain doors were opened before the objective was triggered
Fixed some graphical issues with the fridges on Border Crossing
Fixed an issue on Brooklyn Bank where clients could get stuck inside the winch
Fixed an issue on Car Shop where civilians could get alerted when seeing a computer that has previously been hacked
Fixed an issue on Counterfeit where players could get stuck behind the ladder
Fixed an issue on Diamond Heist where the escape would not trigger
Fixed an issue on Firestarter day 2 where all team AI would stand on the same spot
Fixed an issue on No Mercy Hospital where the enemies could get stuck behind a wall
Fixed an issue on Rats day 1 where a sentry gun could be placed near the shed and the enemies would not be able to destroy it
Fixed an issue on San Martín Bank where the Fabergé egg did not have an outline
Fixed an issue on San Martín Bank where the AI would move around the level in stealth if a client had left the game
Fixed an issue on San Martín Bank with an invisible collision in a window by the side entrance
Fixed some minor graphical issue on San Martín Bank
Fixed an issue on San Martín Bank where the glass did not break when an AI jumped through the windows at the front of the bank
Fixed an issue on San Martín Bank where you could interact with the cup through furniture
Fixed some gaps on San Martín Bank near the security boxes
Fixed an issue on Scarface Mansion where some debris could be seen floating above the ground
Fixed an issue on White House where the player could get stuck in a coat hanger
Removed folders from various levels related to the 2017 Locke & Load event that did not have any functionality
Weapons
Fixed skins that applied over the lens on sights
Made "Boost" weapon mods purchasable with Continental Coins
Fixed an issue with how the Advanced Combat Sight was applied to the Piglet Grenade Launcher
Text
Added descriptive text to items locked behind an achievement
Added a prompt for what button to use when tased
Fixed some issues with the Japanese font
This new update has a total file size download of 1.2 GB.