This guide gives you the ranges on all rocket launchers settings in the game. Also included is information on using the PTRD-41 anti-tank rifle, RPG-43 anti-tank grenades and satchels.
Introduction
DISCLAIMER: RANGE INFORMATION WAS FOUND IN-GAME THROUGH TRIAL AND ERROR. ALTHOUGH THE RANGE OF LAUNCHES MAY SAY OTHERWISE, THIS IS THE REAL IN-GAME RANGE.
Selecting Ranges
You can select ranges on all launches by pressing "x" by default when aiming down the sight.
Measuring Distance
You can measure the distance to your target if you are the Squad Leader or Assistant Squad Leader. To do this, use your binoculars to mark a target with "Caps Lock" by default. If the mark is accurately placed right on a target, you can mark it by right-clicking on the situation map and selecting "measure."
If you are not the Squad Leader or Assistant Squad Leader, you can use the images of the selected launcher below for reference. Click on the images to enlarge them.
M1A1 Bazooka

M9A1 Bazooka
P.I.A.T
Panzershrek

Panzerfaust
PTRD-41 Anti-Tank Rifle
To use this weapon properly, you need to be perpendicular to your target on the side or rear of the tank. Even the slightest angle on your shot will not permit penetration. However, this rule does not apply to half tracks, trucks, and cars.
You can eliminate a tank with 3-7 shots on the side or rear of the following vehicles: Panzer III, Panzer IV, Marauders, Hetzers, Puma, Jagdpanzers, halftracks, and anti-aircraft vehicles.
Please note that side skirts on tanks are not penetrable. Additionally, Stugs, Panthers, Jagdpanther, Tigers, King Tigers, and Jagdtigers are NOT PENETRABLE.
Anti-Tank rifles are capable of destroying any anti-tank cannon, howitzer or anti-aircraft cannon.

RPG-43 Anti-Tank Grenade
This impact-sensitive explosive is useful on lightly armored and open-top vehicles and is mostly effective as an anti-personnel grenade, despite its designed use.
It can be used to kill halftracks, Pumas, Marauders, anti-aircraft vehicles, trucks, and cars.
However, it cannot disable or knock out gun emplacements, Panzer III, Panzer IV, or anything with greater armor. It takes approximately 6 RPG-43s to slightly damage a Panzer III if thrown at the rear of the tank. Considering that you have barely half this amount, it would be more effective to use them against infantry rather than wasting them on the tank.
Satchle
Explosive satchel charges have a 10-second fuse and can be used to disable any tank or vehicle with a well-placed throw.
You can easily place a satchel on top of the engine by running, jumping, and throwing at the same time. The satchel does need to be ignited before it is thrown, so it is best to start this process by clicking and holding to get a well-distanced toss.
They are also effective for demolishing gun emplacements, headquarters, and vehicle pools.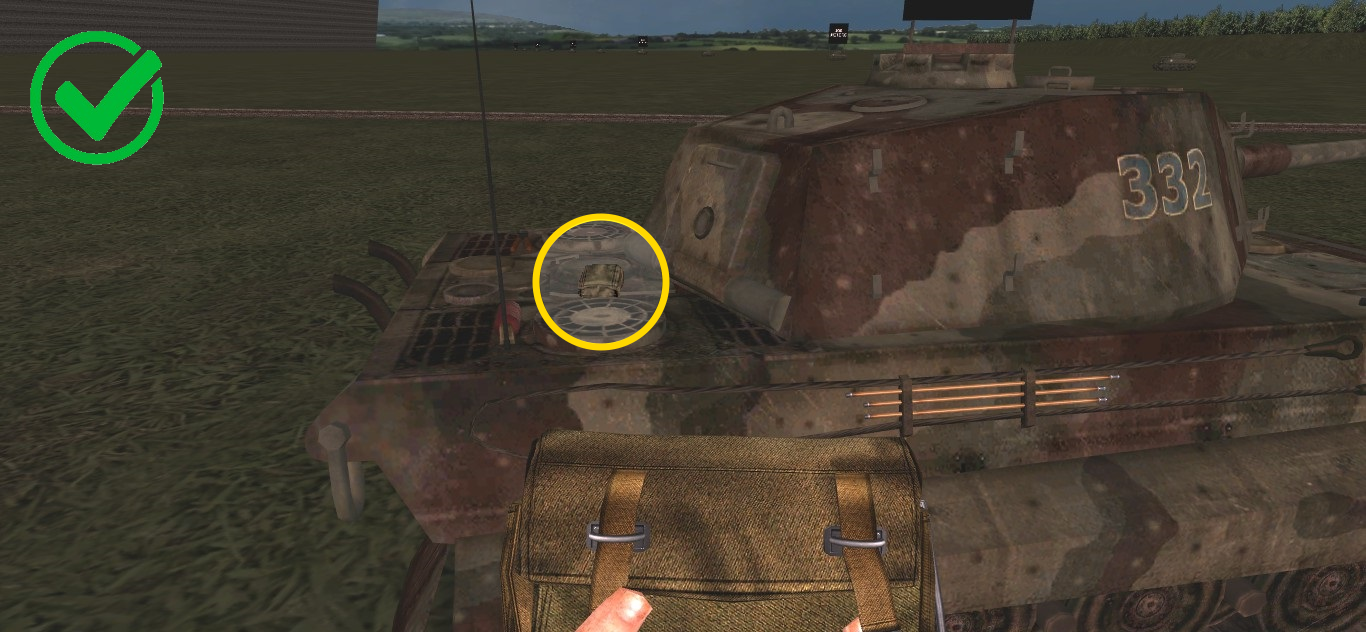 Anti-Personal Grenades Use on Armored Vehicles
The use of anti-personnel grenades is generally ineffective against armored vehicles, with the exception of the German anti-aircraft trucks, where it may take 3 or more grenades to have an impact.
However, anti-personnel grenades can still be effective in knocking out or disabling transport/logistic trucks and cars.

This guide about
Darkest Hour: Europe '44-'45
was written by
Weber
. You can visit the original publication from this
link
. If you have any concerns about this guide, please don't hesitate to reach us
here
.